Do you wish you could hit the open road a little bit more often? Is more travel a goal of yours for 2020?
We hear you!
Getting out of your comfort zone and hitting the open road, jumping on a plane and heading to a new location can do wonders for your health, relationships and to spark new ideas.
If travel is your goal, you might be asking; but how can I make that a reality? Well here are some tips for getting more travel time in this year.
Explore Where You Live
Let's start small with a weekend staycation. That's right: Be a tourist in your own city. You might just be surprised to find how much a spa day makes you feel like you just got back from Bali.
And of course, if you have never been to the Coonawarra, we highly recommend packing the car, the kids and even the dog and heading our way for a weekend getaway.
Cut back on unnecessary spending
I know… boring but having a budget and cutting back on unnecessary spending can help you reach your goals a whole lot quicker. Try and have one less coffee or lunch out a week and add this into a saving bank account.
Maybe call it your adventure account for when you want to throw caution to the wind and go away somewhere.
Subscribe to travel blogs and airline deal emails
Be the first to hear about all the latest deals by subscribing to hotel and holiday deals; that way you can book a getaway when the prices are reasonable and spend less money in the process. Win, win.
Spontaneity is often rewarded
Be willing to throw caution to the wind and travel and go when and where you can on a whim, if you have a free weekend coming up or a slow time at work that you can take some additional leave, why not book a trip away?
Travel is worth working for
You might have to work hard and sacrifice some things to fulfil your dream of travelling more, but it's worth working for. You will always remember experience over things and getting out and exploring is good for the soul.

​
While we are still rolling with the summer vibes, we thought it only fair that we keep the seafood eats rolling. And what better way than with a delicious seafood pasta for a weeknight dinner that is sure to be a crowd-pleaser.
And paired with a Raidis Estate The Kid Riesling you are sure you be in foodie heaven.
What you'll need:
Calamari – 3/4 lb, sliced into rings
Mussels – 1 lb, cleaned and debearded
Garlic – 2 cloves, minced
Shallots – 1/2 bulb, diced
Parsley – 1/4 bunch, chopped
Linguine – 1/2 lb
Cooking oil – 2 Tbsp
Anchovy paste (opt) – 1 1/2 tsp
Capers – 1 Tbsp
Diced tomatoes
White wine – 2 Tbsp (Use a dry white like a sauvignon blanc)
Lemon – 1/2, juice of
Method:
Bring a saucepan of water to boil. Salt generously and add linguine. Cook until al dente.
Heat a saucepan over medium-high heat. Add cooking oil and then garlic, shallots, anchovy paste, and capers to heated oil. Sauté for ~2 minutes.
Add diced tomatoes and wine, and sauté for another 3 to 4 minutes.
Add mussels to pan. Cover with a lid and cook for ~5 minutes. Give the pan a shake before removing the lid and folding in calamari.
Cook for another 3 to 4 minutes, until squid, is cooked through.
Toss with linguine and finish with lemon juice and then season to taste with salt and pepper. Garnish with parsley.
Enjoy your Italian seafood pasta (preferably with a glass of Raidis Estate Riesling!).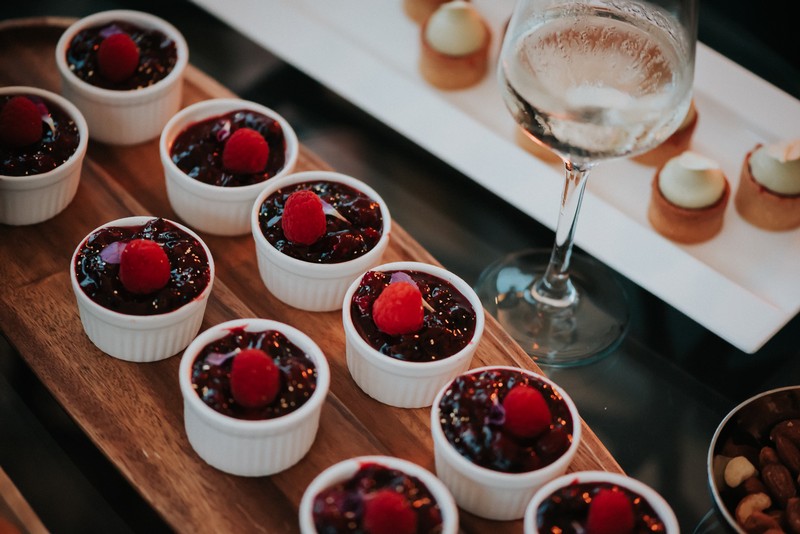 Every day should be a day that we appreciate our beloved, but Valentine's Day is a good excuse to think about doing something nice with our partner and celebrating all that they are.
If you are not into fanfare and long-stemmed roses arriving at your door that's ok, there are lots of lovely ways to spend time with the one that you love. It doesn't need to be anything fancy or extravagant, but something that you both enjoy.
Here are our top tips for something special with your lover that are creative and don't cost the earth.
Pack a picnic
And head to the beach or your favourite park. Enjoy the beautiful summer weather, the great outdoors and each others company while you enjoy some cheese, dip and olives and maybe a cheeky bottle of Raidis Estate for good measure.
No phones for 24hours
In the tech-centric society that we live in when was the last time that you sat down and enjoyed your partner's company with no distractions.
Can you remember such a time? How about giving the gift of your full attention for 24 hours and turning off your phone, putting it in the draw and enjoying each other.
Plant a garden together
What better way to celebrate love than planting a garden and watching it grow? And grow it will over a 12month period so that this time next year you will be able to sit down and look at the fruits of your labour and hopefully taste them if you plant something edible.
Cook together
Pick out a recipe you have been dying to try and plan a night of cooking, turn the music up loud, pour some wine and dance in the kitchen.
And if you are feeling adventurous, try cooking some delicious, decadent dessert together.
Write a little love note
When was the last time you told your lover how you felt about them? Why not write them a little love note telling them how special they are to you, and something for safekeeping to remind them of this when you might be going through some tough times.
And if all else fails sometimes simple is best. Pour a glass of your favourite wine and enjoy each other's company.
Happy V day lovers!


A big bowl of delicious Seafood Laksa is a sure-fire way to warm up your mid-week cooking rotation.
If you are not familiar with this deliciousness, Laksa is a popular Peranakan spicy noodle soup.
Peranakan culture is based in Southeast Asia and is a mash-up of Chinese, Malay and Indonesian influences.
So, it's no surprise that Laksa is a fusion of Chinese noodles and Southeast Asian curries, and range from the mild "Chinese" type curries to the full-blown spicy variety and it's Oh so delicious.
It's warm, nourishing and will instantly whisk you away to Singapore!
What you'll need:
250g rice vermicelli
1 tablespoon of peanut oil
1/4 cup laksa paste
3 cups of vegetable liquid stock
400ml coconut milk
750g green prawns, deveined, shelled, tails on
250g squid
100g deep-fried tofu, quartered
100g bean sprouts, trimmed
1/2 cup fresh coriander
1/2 cup Vietnamese mint
1/2 cup Thai basil leaves, plus extra to serve
1 small red chilli, seeds removed, cut into thin strips
2 tablespoons chopped peanuts, to serve
Fried Asian shallots, to garnish
Method:
Place the vermicelli in a bowl, cover with boiling water and leave for 10 minutes to soak. Drain and set aside.
Place oil in a wok over medium-high heat. Add the laksa paste and stir-fry for 1 minute. Stir in the stock, bring to the boil, then add the coconut milk and simmer for 2 minutes.
Add the green prawns, squid and tofu and cook for 2 minutes before adding 1 teaspoon of salt.
Divide the noodles between serving bowls, top with the bean sprouts and the fresh herbs. Pour the laksa soup over the noodles, dividing the seafood equally among the bowls.
Garnish with slices of chilli, peanuts, shallots and the extra fresh herbs


Looking for a summery cocktail to spice things up this Christmas?
Sangria is the perfect Spanish addition to the Christmas table and is easy to make in advance.
A crowd-pleasing Sangria recipe usually calls for a bottle of red wine.
What you'll need:
1 x 750ml bottle of red wine
1 lemon (cut into wedges)
1 orange (cut into wedges)
2 tablespoons sugar
1 1/2 ounces of brandy
2 cups ginger ale or club soda
Optional: lemon wheels, orange wheels
Method:
Pour the wine into a pitcher and squeeze the juice from the lemon and orange wedges into the wine.
Toss in the fruit wedges (try to remove seeds first, if possible) and add the sugar and brandy, stirring gently until the sugar dissolves.
Cover the pitcher with plastic wrap and chill it in the refrigerator for 8 hours or overnight to marry the fruit and wine flavours.
Add the ginger ale or club soda just before you serve it. Garnish with a freshly cut lemon or orange wheels if desired.
Enjoy!


We've all been there. After the mayhem of Christmas present opening time there are piles and piles of ripped Christmas wrapping paper strewn around the living room, which often swiftly gets packed up and put in the bin.
Possibly you keep some of it, but let's face it if you have kids most of it gets ruined in the opening process.
So, what are some green wrapping alternatives?
We are glad you asked.
Baskets
Baskets can make great present givers for plants, toys and food and wine goodies. They are re-usable and can help store things around the home.
They also come in a range of assorted sizes and shapes to suit your home.
Paper Bags
Paper bags can become really pretty wrapping paper when you add bits and pieces from around the house. And they can be decorated with markers, stickers, etc.
You can also add a ribbon to jazz them up.
Old maps
Who still has a book of road maps sitting in their car somewhere collecting dust?
Maps can make great wrapping paper for smaller items such as books, and you can even mark some landmarks that you have visited or created memories at.
Re-used gift bags
You are bound to have a stash of reusable gift bags lying around at home somewhere. How about giving some of these a new lease on life by getting the kids to paint designs on them, or just simply re-use them.
Furoshiki
Furoshiki is a method of folding cloth into beautiful packages. Using a piece of beautifully printed cloth with a few knots in interesting places will create an eye-catching package.


Christmas is a-coming, and if you are hosting Christmas lunch this year, you could be starting to panic a little bit.
This Turkey recipe is delicious and straightforward, so there is no need to panic!
What you'll need:
1 (8KG) whole turkey
1/2 cup unsalted butter, softened
salt and freshly ground black pepper to taste
1 1/2 quarts turkey stock
8 cups prepared stuffing
Method:
Preheat oven to 165 degrees C. Place rack in the lowest position of the oven.
Remove the turkey neck and giblets, rinse the turkey, and pat dry with paper towels. Place the turkey, breast side up, on a rack in the roasting pan. Loosely fill the body cavity with stuffing. Rub the skin with the softened butter, and season with salt and pepper. Position an aluminium foil tent over the turkey.
Place turkey in the oven and pour 2 cups turkey stock into the bottom of the roasting pan. Baste all over every 30 minutes with the juices on the bottom of the pan. Whenever the drippings evaporate, add stock to moisten them, about 1 to 2 cups at a time. Remove aluminium foil after 2 1/2 hours.
Roast until a meat thermometer inserted in the meaty part of the thigh reads 75 degrees C, about 4 hours.
Transfer the turkey to a large serving platter, and let it stand for at least 20 to 30 minutes before carving.


As another Christmas draws near and we start thinking about buying gifts for our loved ones, you might be wondering what the heck to buy for that hard to buy for friend or relative.
We can so easily shop from virtually anywhere in the world now with the click of a button.
But this holiday season, maybe it's time to think about shopping a bit closer to home and support the local businesses around you.
Here are some suggestions of ways you can support local this Christmas:
Eating out:
Eating out in the lead up to Christmas? Why not support that local restaurant or café that you keep meaning to go to around the corner from your house?
Chance are it's run by a local family, or young person following their dreams. And if you like it or love it, why not buy a gift voucher for someone as a present or give them some review love online.
Shop local:
For the physical presents, see if you can shop within a 5km radius of where you live.
You can support the local nursery, gift shops and even the locally run supermarkets, greengrocers and independent wine shops. You will get personalised service and will be supporting the local community and economy.
Give the gift of experience:
Why not give the gift of experience by either taking someone you love out somewhere local for an experience or dining or take a holiday somewhere in your own backyard?
It could be a quick getaway for a weekend or a day trip to one of the local wine regions.
When you shop local, you ensure that you are supporting local entrepreneurs, you'll find unique gifts for your loved ones to enjoy and you will help support and build communities.

​
Fresh lunchtime eats, or a quick and easy dinner has never been easier when you pair a delicious Caesar salad with prawns.
This dish is quick, easy and healthy. Perfect for the spring season and to keep you feeling good.
What you'll need:
500g cooked prawns, with tail
4 rashers rindless bacon, cooked, chopped
2 cups toasted croutons
¼ cup grated parmesan, plus extra to serve
½ seafood cocktail sauce
2 tbs lemon juice
¼ creme fraiche
2 hard-boiled eggs, peeled, coarsely grated
½ Cup of Cherry tomatoes
Method:
Place the lettuce in a bowl with the prawns, bacon, croutons, tomatoes and parmesan.
Mix the seafood sauce with the lemon juice, creme fraiche and 2 tablespoons of warm water, then season with salt and pepper.
Add half the dressing to the salad and toss to combine.
Pile salad into serving bowls, drizzle with the remaining dressing and garnish with egg and extra parmesan.


The entertaining bug is strong as the weather heats up and we all head outside for some sunshine.
Cured salmon is both healthy and delicious. And the beauty of cured salmon is you can serve it up as a dinner party starter, use the next day on fresh bagels or toast with cream cheese or avocado. And you can even freeze it for a later date if you've made too much.
The number one key is to ensure you that you have sashimi-grade salmon to start with.
Oh so delicious and pairs perfectly with a glass of The Kelpie or our Cheeky Goat.
What you'll need:
1 1/2 lbs. sashimi-grade salmon fillet
1/2 cup coarse kosher salt
1/2 cup raw sugar
1 tsp. coarsely crushed peppercorns
1/2 tsp ground red pepper
Method:
Combine all ingredients, except fish, in a bowl and mix. Place a piece of plastic wrap down on a baking sheet and pour half the salt mixture on top. If you want to add another layer of flavour, try curing the salmon in your favourite Gin or Whiskey.
Pat the fish dry, remove any bones, and place, skin side down, on the salt mixture. Top the salmon with the remaining salt mixture. Wrap in the plastic wrap.
Place the fish on the baking sheet in the fridge and cover with something flat and heavy.
Drain and flip the fish every 12 hours for 36-72 hours, depending on the desired cure.
Remove from fridge and rinse all the salt off. Pat the fish dry and place back in the refrigerator, uncovered, for 12-24 hours to help the salt distribute.
And enjoy!