Getting the BBQ out and cooking for family and friends is one of our favourite things to do, and the first real glimpse of springtime sunshine has seen us dusting off the BBQ and spending some more time outside again after a few months of cold, wintery weather.
So, in true Raidis sharing fashion, we wanted you to experience the amazingness that is this delicious Barbecued Prawns with Lemon, Parsley and Garlic recipe, and pair it with one of our crisp and delicious white wines.
What you'll need:
4 tbsp. Olive oil
4 tbsp. Lemon juice
3 tbsp. chopped fresh Parsley
1 tbsp. minced Garlic
Freshly ground black pepper to taste
Chilli flakes (optional)
700g uncooked fresh King Prawns, peeled and deveined
Method:
In 3 easy steps:
In a large glass bowl, stir together the olive oil, lemon juice, parsley, garlic and black pepper. Season with chilli flakes, if desired. Add prawns and toss to coat.

Preheat BBQ for high heat. Thread prawns onto skewers, piercing once near the tail and once near the head. Discard any remaining marinade.
Lightly oil cooking plate. Cook for 2-3 mins each side until opaque.
This recipe is so simple and totally delicious, and pairs perfectly with our "The Kid" Riesling, or "The Kelpie" Sauvignon Blanc. Whichever Raidis wine you opt for, you won't be disappointed, just make sure there is plenty for everyone!
And to make this delicious recipe into a meal that everyone will love, consider adding some springtime favourites, such as a crisp garden salad or roasted seasonal vegetables, a warm breadstick, some baked potatoes, and a fresh fruit plate to finish.
Enjoy.


Singapore is without a doubt one of our favourite places in the world to visit. It has everything you're longing for during those cold, wet winters that South Australia loves to send our way, and on top of that, for three glorious days and nights in July 2019 it will have us there to show off the best Raidis Estate has to offer.
So, to get your mouths watering for the 2019 Singapore Trip with Raidis Estate, here are our top 5 reasons you need to come along.
Weather!
I'd say this is enough reason by itself, but there's so much more! The weather in Singapore is always amazing and is all that much more alluring when we are in the throes of winter in Australia. To give you some idea, the average temperature in Singapore in July ranges between 26 and 31 degrees C, as opposed to the Coonawarra which ranges between 5 and 14 degrees C.
Food and Drinks!
Singapore is a vibrant, multi-cultural foodie heaven. Need I say more?! There is something in Singapore to suit every person and every palate, and some of our favourites are in the Hawker Centres (better known here as Food Courts) where there is just so much choice. Whatever takes your fancy, Singapore has it all. From street vendors to fine dining, there's something amazing that will fit any budget. Drinks, well on top of the fact that this trip will see you indulge in some of Raidis Estate's finest produce, Singapore has some of the best cocktails and beers you could imagine, and we will be sure to show you some of our favourites.
Attractions!
Singapore is jam-packed full of world-class attractions. Orchard road is a dream for the shop-a-holics out there, where you can lazily meander in and out of the retail stores finding a plethora of goodies that you won't find in Australia. The Marina Bay Sands rooftop swimming pool and bar will give you a view of Singapore and the harbour second to none while you sip on a Singapore Sling or two, and the nearby Gardens by the bay are another highlight. But, our personal favourite being the animal lovers we are is the Singapore 'Night Zoo' tour, where you get to experience this amazing Zoo and its animals by night. We could go on forever about all the attractions Singapore has, but it's best if you experience them for yourselves.
Break up the bigger European trip!
Singapore is a major travel hub from Australia and the gateway to Asia and the rest of the world, with many flights from Australia stopping there on their way to Summer holidays in Europe. It's a very manageable 7hr flight from Adelaide, and what better way to break up the long trip to Europe than to spend a few glorious days in sunny Singapore experiencing all the Asian delights.
One on One time with team Raidis!
Last but by no means least, this is an opportunity for you to get up close and personal with team Raidis for three amazing days and nights of Sun, Food, Wine, Shopping, and more. We are designing an experience for our Billy Goat members that you will never forget. The only thing we love more than seeing our wines being enjoyed, is to spend some time with people who truly do live the Raidis dream, and who love the wines as much as we do.
These are just our top 5 reasons you need to come to Singapore next July. We think any one of the above is enough on its own, and the five combined has us looking for the 'Book now' button. Whatever your top 5 reasons to come with, this trip will be one not to miss!


As the buds get ready to burst around the vineyards and the days are just that little bit longer, we catch that first glimpse of spring and are filled with thoughts of warmth and white wine.
So, we thought it time to share with you a Springtime dish that pairs beautifully with our 'The Kid' Riesling.
Tuna and Corn Burgers with zesty Tomato Salsa
What you'll need:
Burgers
300g of corn kernels
425g can of tuna in spring water, drained
½ cup breadcrumbs
¼ cup of grated cheese
2-3 green onions, finely chopped
2-3 eggs
2 Tbsp. of Olive oil
4 x Wholemeal buns (can switch out for white or other)
4 x slices of Jarlsberg cheese
4 x lettuce leaves
Kewpie mayonnaise
Salt and pepper to taste
Salsa
2-3 ripe tomatoes, diced
2 small cucumbers, diced
½ red onion, diced
1 Lemon (juice of)
½ Lime (juice of)
A swirl of Balsamic glaze (or balsamic vinegar)
1 Tbsp. of chopped Jalapenos (add or subtract according to taste)
Salt and Pepper to taste
Method:
Combine the Corn, Tuna, Breadcrumbs, Cheese, Onion, Eggs and Olive oil in a mixing bowl until mixed through. Add the salt and pepper to taste and set aside.
Combine all the Salsa ingredients in a separate bowl until mixed through. You can add more or less of each ingredient until the mixture tastes the way you like it. Set aside.
Heat some additional olive oil in a flat pan, and once hot grab handfuls (or spoonful) of the tuna mixture, forming them into burger-shaped portions and place in the pan. Flatten the burgers slightly and place the lid on the pan, cooking for approximately 3 minutes each side.
Whilst the burgers are cooking, cut the rolls and add kewpie mayonnaise, Jarlsberg cheese and lettuce leaves. Once burgers are cooked, place on top of the cheese and then place generous spoonsful of the salsa mixture on top of the burger and serve.
Enjoy!!


There's often some debate around whether wines are best stored standing up, or lying down, or that it doesn't matter either way.
Well, in short, it does matter, and here's why!
The way a bottle should be positioned in storage has mainly to do with the type of closure it has on it. If you have wine bottles with corks in them, as a rule, the wine should be stored lying down as the cork is a natural product and has moisture in it when it's put into the bottle. When the bottle is stored lying down, the wine helps to keep that moisture in the cork and stop it from drying out and shrinking.
When the cork shrinks, it allows more air to get past it and into the wine in the bottle, thereby prematurely aging the wine and encouraging spoilage. Also, by creating a wider passage for air to get in, it also allows wine to escape, and hence why sometimes you'll see that wine has seeped along the cork in the bottle (trying to get out). Access to too much air during the storage/ ageing process will destroy the wine and encourages spoilage. The problem is usually you don't find out until it's too late!
Screw caps on the other hand, it really doesn't matter whether the wine is stored standing up, or lying down. Screw caps essentially don't let as much air into the bottle as corks do, and they don't require the wine to be in contact to stop the cap drying out and shrinking.
There are other types of closures on wines, and as a rule, if there is a natural cork in the bottle, store it lying down. If there is a synthetic or man-made closure on the bottle, you can go either way, whatever suits you.
At the end of the day, there is one more important factor than the above when storing your wines, and that is temperature. Wine is best stored in a cool, dry place where the temperature doesn't fluctuate much (like an underground cellar). It's really a combination of proper storage technique and temperature that will ultimately age a wine to perfection.
So when you put away that special bottle, make sure you store it correctly so it's perfect down the track.


A hearty roast chicken on a weeknight can be good for the soul, and a dish that will satisfy even the fussiest members in your home. This sticky, gooey miso roast chicken recipe will have all the family in a great mood for days to come, not to mention leftovers will be a great addition to the kid's lunch boxes.
Paired with a crisp Raidis Estate Sauvignon Blanc (for the Adults only), it's sure to be a weeknight dish to impress.
What you'll need
1.6kg chicken
1/3 cup (80ml) peanut or sunflower oil
2 tbs kecap manis
1 tbs miso paste
2 spring onions, sliced
2 tbs rice wine vinegar
1 long red chilli, sliced
2 Lebanese cucumbers quartered lengthways
Micro coriander (or bunch coriander, leaves picked)
Steamed rice to serve
Method
Preheat oven to 180ºC fan-forced.
Tie the legs of the chicken together. Rub 1 tbs oil over chicken, then place on a lined baking tray. Roast 40 minutes until slightly golden.
Meanwhile, combine the kecap manis with miso paste and brush over the chicken. Roast for a further 45-50 minutes until caramelised and cooked through. Remove and rest for 5-10 minutes before serving.
Heat remaining ¼ cup (60ml) oil in a small frypan over high heat, then add the spring onions and cook for 2-3 minutes until dark golden and crisp. Remove from the pan and drain on paper towel.
Combine resting juices from the pan of the chicken with the rice wine vinegar and toss with the chilli and cucumber. Top with coriander and serve with the chicken, crispy spring onions and rice.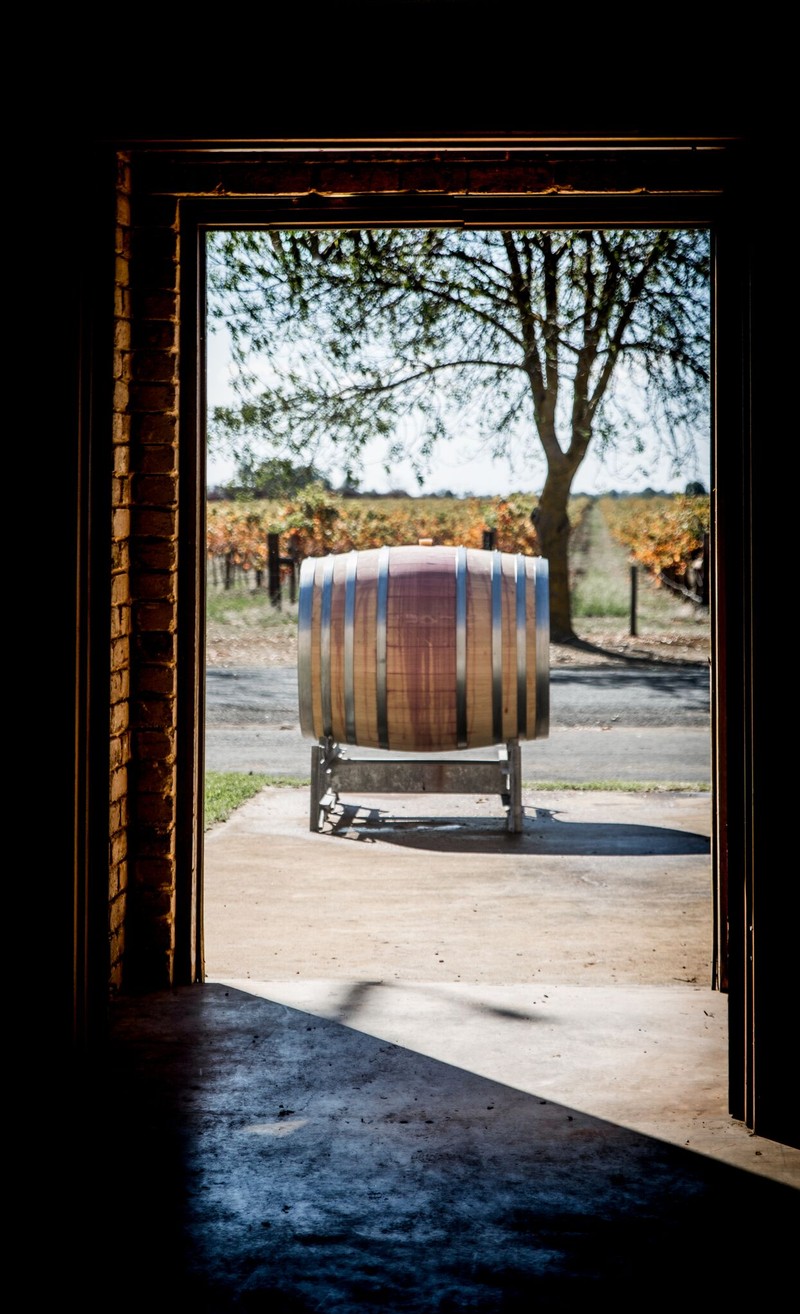 So, I start out as a tree, generally in a forest either in France or the USA, but nowadays I can come from some lesser known places for wine Oak like Russia.
I grow up and after a few years get cut into pieces and stacked up, left out to weather in the elements for a few years… They call it seasoning, but that makes it sound a little more glamorous than it really is!
Once it's decided that I've "seasoned" enough, Mr Cooper comes and picks me up and takes me to the Cooperage, where I'm soaked in water, bent into shape and shaved so I look all fresh and new… Now imagine someone did that to you!
And from there it gets worse, once they've cut me to the right size and shape, they pack me right next to the next guy, with no regard for personal space and lock us into place with metal hoops (rings) so that me and the other guys form the shape of the barrel. They do this to the guys on the ends too, except they're called the "head guys" (p.s. they think they're better than us). The next part is the worst, as once we're formed together into a barrel, they light a fire and toast our insides with a fire bucket until we're charred just enough.
Having said all of this, I'm not complaining as a little hard work never hurt anyone. From here on in it's the sweet life. Once we're all nicely formed and toasted, we head to the winery where the Winemaker fills us with the latest nectar of the gods!
Now is where I really shine. My body is porous so I let micro amounts of air through which helps to develop the wine, and I give up part of myself (tannin) to build structure and complexity into the wine. In the first year, I give up the most, and year after year a little less each time.
Ultimately, I know I'm a key part of the process of making great wines, and that's what makes all the hard work early in life worthwhile. I tend to stick around as a barrel for quite a few years, and once I've run out of tannin to give, they just let me hold the beautiful wines to age gracefully.
Not really sure what happens after that as I'm not there yet. I wonder if they give me a medal…. I certainly think they should!


If you are anything like us, we love to entertain. Delicious food served with great company and a bottle or two of Raidis Estate wine on the table is the best way to live and is the ethos of why we do what we do.
Mexican food is made for the entertainers. From tacos to guacamole, it is made to share and enjoy with minimal fuss. Enchiladas are a fantastic way to feed the masses.
This beef enchilada recipe is sure to impress.
What you'll need:
2 1/2 cups enchilada sauce
1 Tablespoon olive oil
500gm ground beef
2 fresh chilli
Salt and freshly ground Black Pepper
1/2 cup canned corn kernels, drained
1/2 cup canned black beans, drained and rinsed
1 1/4 cup of a soft goat's cheese
1 1/4 cups shredded cheddar cheese
12 (6-inch) flour tortillas, warmed
3 Tablespoons chopped fresh coriander leaves
1 avocado, halved, seeded, peeled and diced
1 tomato, diced
Method:
Preheat oven to 180 Degrees, then pour 1 cup enchilada sauce in the bottom of a baking dish and set aside.
Heat olive oil in a saucepan over medium-high heat. Add beef, chilli, salt and pepper to taste. Cook until browned, about 3-5 minutes, making sure to crumble the beef as it cooks.
In a large bowl, combine beef, corn, beans, 1/2 cup goats cheese and 1/2 cup cheddar cheese.
To assemble the enchiladas, lay a tortilla on a flat surface and spoon 1/4 cup of the beef mixture in the centre. Roll the tortilla and place seam side down onto prepared baking dish. Repeat with remaining tortillas and beef mixture.
Place into oven and bake until bubbly. About 20 minutes.
Serve immediately, garnished with coriander, avocado and tomato, if desired.
To be best enjoyed with family, friends and a bottle of Raidis Estate Pinot Gris on the table.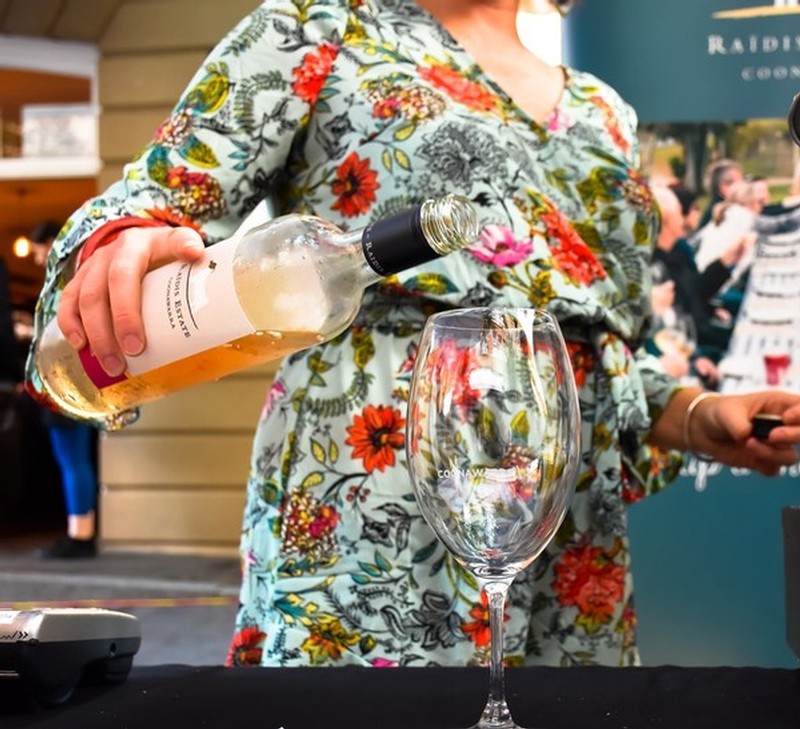 Raidis Estate is a passionately family-run winery. At the helm of the good ship Raidis is husband and wife duo, Steven and Emma Raidis.
Most days you can find Emma and Stevo in the cellar door, chasing a goat or two around the vineyard, or traversing around Australia promoting their love of their wines.
Want to know more? Well, here is five questions in five minutes with Emma and Stevo to see what makes them tick.
Stevo
What is the strangest thing you have done to sell a bottle of wine?
I have one stockist in Sydney who always takes me out "surfing" on reef breaks. I can't surf, so I always come out bleeding, but he is a very good stockist and a good guy.
Favourite food and why?
Only one??? John Rymill's duck curry. It's been a long time since I had it, as he banned me from it for one smart ass comment. It's a beautifully rich and flavoursome dish that goes really well with an elegant Shiraz.
What wine varietal would you love to add to your list?
Prosecco because it's sooooo hot right now. It should grow well down here, but who knows what the next few years hold for us.
Where would you love to see your wine on a wine list/ in a bottle shop?
The place I love seeing our wines is on a table full of people and food shown on someone's social media feed. That's why we make wine; to be enjoyed with friends and food.
Where would you love to travel one day?
I would love to go to Mongolia. It looks like such a harsh yet beautiful country.
Emma
What is the strangest thing you have done to sell a bottle of wine?
I honestly can't think of one… (But we know she'd have some good stories up her sleeves…)
Favourite food and why?
Hmmm – this is a hard question for me… probably any good burger made with fresh ingredients. It's like the perfect blend of all food groups & amazing flavours!
What wine varietal would you love to add to your list?
Prosecco, because I really would like a sparkling in our range, and it will grow well here which is a factor we always need to consider.
Where would you love to see your wine on a wine list/ in a bottle shop?
Everywhere! The more places the better… I really don't care where they are as long as people are enjoying them.
Where would you love to travel one day?
Cuba – the food, music & culture seem so rich & colourful. I would love to go there!


Winter; the nights are long, the days are a little crisp, and your skin is turning a shade of white… It can be a little hard to take seeing all your friends' photos of European holidays and tans on Facebook when you first check your social media in the morning… But there is one thing about winter that we can all look forward to, and that is nights by the fireplace, a bottle of red wine carefully decanted, and a delicious pasta.
There is not much better than a bowl of pasta and a glass of red wine, am I right?
So here is a recipe for a delicious puttanesca sure to warm you up.
What you'll need:
1 x packet of pasta of your choosing
1 x tin of tomatoes 250gm
Half a brown onion chopped
4 cloves of garlic chopped
½ cup of pitted olives
5 Anchovies cut into pieces
1 teaspoon of olive oil
2 x teaspoons of capers
1 cup of grated pecorino cheese
Basil to garnish
Method:
Finely chop onion and garlic and place to the side. Also, chop up olives and anchovies into small pieces.
Heat up olive oil in the saucepan and sauté onions and garlic until translucent.
Meanwhile boil a large pot of water, seasoned with salt. Place a handful of pasta into boiling water, reduce heat and cook for the time required.
Add a tin of tomatoes, capers, olives, anchovies to saucepan, and salt and pepper to taste. Pour sauce over pasta to serve.
Serve with a delicious red wine. We recommend a Billy Goat Shiraz or Mama Goat Merlot.
Bon appetit!


Have you ever seen a gymnast perform? Carefully executing their movements on high bars, or hanging from rings while doing flips, twists and turns. The beauty of this sport relies on skill, technique and most of all, balance.
Wine is no different. Although it's unlikely you'll find Stevo anywhere near a gymnastics arena, or dressed in lycra! Wine becomes unbalanced when one thing or another doesn't fit well into the synergy of the rest of the wine. i.e. there is too much acid, too much tannin, not enough alcohol etc. You get the picture!
Making great wines that people love to drink requires a lot of planning, a lot of skill, and much balance. Balancing of inputs in the vineyard and inputs in the winery all combining into the magic that is in the bottle. It's funny how making a wine can be related to gymnastics, but just think if a gymnast puts their arm out the wrong way, or misses a critical step, they become unbalanced and can fall, hardly making for a beautiful display of perfect form. In much the same way, if all the components of a wine are not in synergy with the others or the wrong kind of oak is used, the wine can become unbalanced and doesn't perform as well as it should or could.
It's for this reason that we take special care to make sure our wines are harmonious, that all the parts and inputs are in sync and most of all that the wine is balanced because in balance there is beauty.
Next time you have a glass of wine, think about how well all its parts work together, and know how much care and attention has gone into making those grapes the best they can be!
Disclaimer: Please don't drink wine and then attempt to do gymnastics!