Even though we may not be having the traditional big family Easters and long weekend getaway that we are so used to in Australia this year, it doesn't mean that we can't spoil those in our immediate household with a delicious meal.
Whether it is a roast for two or feeding your family of four, now more than ever it is essential to bring your loved ones who live in your house under one roof to the table to enjoy an Easter lunch and give thanks to all that we have and more.
This Roast beef recipe is a delicious addition to your Easter weekend celebrations, and the leftover meat makes excellent sandwiches for days to come.
What you'll need:
1 X 2Kg round roast
Extra-virgin olive oil
3 cloves garlic, minced
1 tbsp. chopped fresh rosemary
1 tbsp. chopped fresh thyme leaves
2 tsp. kosher salt
1 tsp. freshly ground black pepper
Method:
Preheat oven to 240. In a small bowl, combine oil, garlic, rosemary, thyme, salt, and pepper. Rub all over roast.
Place roast in roasting pan fitted with a roasting rack. Roast for 15 minutes, then reduce heat to 180 and roast 1 hours 45 minutes more for medium, or 2 hours for medium-well done.
Remove from oven and let rest 15 to 30 minutes before serving.


One of the many blessing in disguise in this COVID-19 situation is you will probably have a lot more time indoors and being able to do things around the home.
Take the time to do what makes your soul happy.
Cooking meals from scratch can be just what the doctor ordered, and this Chicken and potato pie is a delicious isolation dish.
What you'll need:
750g Potatoes
130g Unsalted Butter
3 Shallots, finely chopped
2tbsp tarragon Leaves
2tbsp Chopped Chives
4 Large Skinless, Boneless Chicken Breasts cut into thin strips
800g Puff Pastry
Flour for dusting
2 Egg Yolks
240ml Double Cream
Sea Salt and Black Pepper
Method:
Put the potatoes and half the butter into a pan and heat gently, turning from time to time, until they are just tender but not brown. Transfer them to a large bowl and set aside to cool.
Meanwhile, soften the shallots in the remaining butter. Add the herbs and chicken, turning the mixture over a steady heat for a few minutes until the meat is partially cooked.
Add to the bowl of potatoes, mix carefully and season well with salt and pepper. Set aside to cool.
Place half the pastry on a lightly floured work surface and roll it into a circle about 30cm wide. Transfer it to a lightly buttered baking sheet. Brush the perimeter of the pastry with beaten egg yolk, then pile the chicken mixture in the middle.
Roll the remaining pastry into a circle about 36cm wide and place it over the filling, sealing and crimping the edges. Cut a circle about 10cm wide in the top, but leave it in place: this will act as a lid. Brush the whole surface with the remaining egg yolk. Bake in an oven preheated to 180°C.
When the pie is ready, heat the cream until boiling then season with salt and pepper. Carefully remove the pastry lid from the pie and pour in the cream, lifting the mixture gently to allow it to circulate. Put the lid back on and return the pie to the oven for 10 minutes.


Had you ever heard the term self-isolation before recent times??? Us neither, but now it is daily talk these days. We are longing for the days when we can sit back around a table, with a cheese platter and chink glasses with our Billy Goat crew…
And while working from home and being housebound might seem nice at first… inevitably then boredom sets in, and you need a good stack of things to keep the time passing, some self-care and keeping your mind active.
So here they are… Our top self-isolating tips!
Read all those books sitting on your bedside table collecting dust
You know who you are… the hoarder of books over there in the far corner. Well now is your time to enjoy the slowdown and get reading…
Plant a veggie patch
Now more than ever, sustainable living should be a focus for all. So, it's high time that you plant that veggie patch and watch your garden grow.
Eat good food
Now is the time to be giving your immune system a fighting chance, so try and eat good food where and when you can. Get into the kitchen and cook your meals from scratch, and maybe even host a virtual dinner party.
Paint
Have you ever wanted to take up painting, photography or some other creative hobby? Well now might be your time to get into that creative hobby that you can do at home.
Organise
Time to organise that cellar, spare room or cupboard that you stuff things into… now is your time to get it done. We suggest doing it with a good glass of vino in hand for good measure. And when you've organised the cellar and realise you need more vino, give us a call.
Sleep
Sounds simple right, but most of us are really sleep-deprived, so if you can fit in a few extra hours of shut-eye, then do so. Take this time to slow down and enjoy some self-care time.
Join us for our live stream wine tasting this Friday!
You know you want too, join us for some fun, hilarity and wine tasting this Friday from 5:30 pm. Just jump on our Facebook page and enjoy the magic.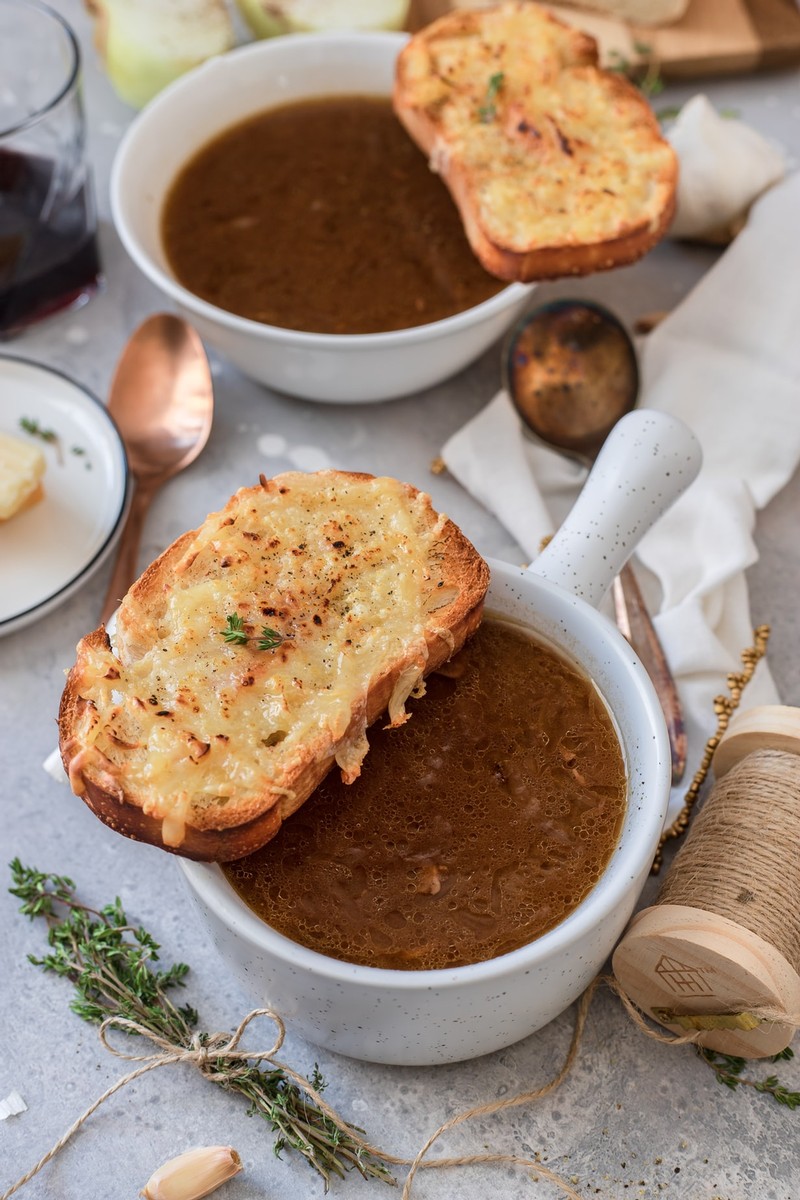 As the world descends into lockdown, it's a great time to hang up the March Madness boots, get into your comfy clothes, get in the kitchen, put some good tunes on and do some cooking.
Nothing is more satisfying and good for the anxious soul than a delicious soup, to keep you healthy, and to freeze portions for those nights that you just can't be bothered to cook.
This French onion soup pairs perfectly with cosy nights on the couch, crusty cheesy bread and a little bit of social distancing. Oh, and whatever wine you've got chilled in the fridge!
Enjoy.
What you'll need:
60g butter, chopped
2 tablespoons olive oil
6 (1kg) brown onions, thinly sliced
2 teaspoons brown sugar
2 tablespoons plain flour
4 cups beef style liquid stock
Method:
Heat butter and oil in a saucepan over medium-low heat until sizzling. Add onions and 1 teaspoon salt. Cook, uncovered, stirring often, for 45 to 50 minutes or until onions are very soft. Stir in sugar and cook, stirring frequently, for 10 minutes or until onions caramelise.
Add flour to saucepan and cook, stirring, for 2 minutes. Add stock and 2 cups water. Reduce heat to low and simmer, uncovered, for 15 minutes to allow flavours to combine.
Make cheesy bread Preheat oven to 180°C. Spray both sides of bread with oil. Rub both sides of bread with garlic. Arrange bread on 2 baking trays.
Bake, turning once, for 10 to 12 minutes or until bread is lightly golden. Sprinkle cheese over 1 side of bread. Return to oven for 3 to 4 minutes or until cheese melts.
Ladle soup into bowls. Top with cheesy bread, season with pepper and serve.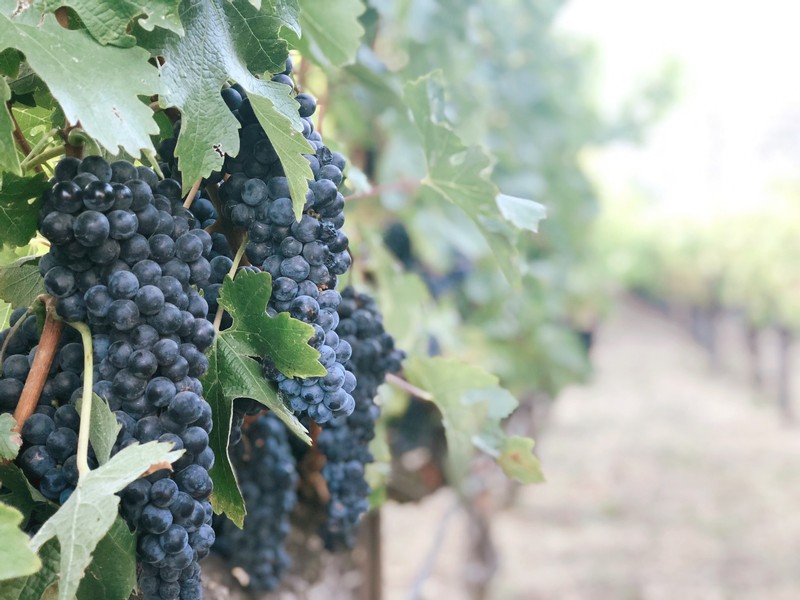 Vintage is in full swing for another year, we thought we'd share some facts and things you may not know about grapes. Those juicy fruits that come off the vines and make some delicious wines.
So, here are some juicy grape facts; suitable to tell your friends at a dinner party over a bottle of your favourite vino or to be used at a trivia night.
Though you'll commonly hear grapes referred to as "fruit," botanists technically classify grapes as berries since each fruit forms from a single flower.
It takes about 2.5 pounds of grapes to make one bottle of wine.
There are more than 8,000 grape varieties known to scientists, and more than 1,300 varieties are currently used to make wine around the world.
Raisins are dried sweet grapes. The drying happens naturally when the grapes are left in sunlight.
Grapes come in many colours, including green, red, black, yellow, pink, and purple. "White" grapes are green.
Grapes are made up of 80% water, which makes them a low-calorie dessert or snack.


Hello Autumn, we are excited to see you again. Boy did you swing around fast!
There is not much better than handmade potato Gnocchi to get you excited about life!
Pasta is one of life's greatest gifts in our opinion and pairs perfectly with a delicious glass of Cabernet Sauvignon or Shiraz.
This recipe is just for the Gnocchi and can be paired with a pasta sauce of your choosing.
What you'll need:
4 medium russet potatoes
1 teaspoon salt, plus more for the water
1 teaspoon pepper
1 egg
1 ½ cups all-purpose flour (190 g), extra to dust
2 tablespoons butter, for pan-frying
Sage leaf
Method:
Add the potatoes to a large pot of cold salted water. Bring the water to a boil and cook for 20-25 minutes. Drain the potatoes and set aside until cool enough to handle but still warm.
Using a peeler or your fingers, remove the skin from the potatoes. In a medium bowl, mash the potatoes until all lumps are gone. Add the salt and pepper and mix well.
Make a well in the centre of the potatoes and crack an egg into it. Whisk the eggs briefly. Then, using your hands, gently mix it into the potatoes until evenly distributed.
Put 1 cups of flour onto a clean surface and turn out the potato dough onto it, keeping the remaining ½ cup close by in case you need it. Working quickly and carefully, knead the dough, only incorporating as much flour as you need along the way until the dough loses stickiness and becomes more solid. Slice the dough into four parts.
Roll out 1 part into a long rope, about 1 inch wide, cutting in half and working with one half at a time if the rope is becoming too long. Slice the rope into ½-inch squares and set aside on a lightly floured surface. Repeat with the remaining dough.
Bring a large pot of salted water to a boil and add the Gnocchi in batches, stirring gently once or twice to ensure they are not sticking. Boil until they float to the surface; after another 15-30 seconds in the water, remove.
In a pan over medium heat, melt butter and add the sage. Add the Gnocchi and toss until lightly golden.
Enjoy!


Do you wish you could hit the open road a little bit more often? Is more travel a goal of yours for 2020?
We hear you!
Getting out of your comfort zone and hitting the open road, jumping on a plane and heading to a new location can do wonders for your health, relationships and to spark new ideas.
If travel is your goal, you might be asking; but how can I make that a reality? Well here are some tips for getting more travel time in this year.
Explore Where You Live
Let's start small with a weekend staycation. That's right: Be a tourist in your own city. You might just be surprised to find how much a spa day makes you feel like you just got back from Bali.
And of course, if you have never been to the Coonawarra, we highly recommend packing the car, the kids and even the dog and heading our way for a weekend getaway.
Cut back on unnecessary spending
I know… boring but having a budget and cutting back on unnecessary spending can help you reach your goals a whole lot quicker. Try and have one less coffee or lunch out a week and add this into a saving bank account.
Maybe call it your adventure account for when you want to throw caution to the wind and go away somewhere.
Subscribe to travel blogs and airline deal emails
Be the first to hear about all the latest deals by subscribing to hotel and holiday deals; that way you can book a getaway when the prices are reasonable and spend less money in the process. Win, win.
Spontaneity is often rewarded
Be willing to throw caution to the wind and travel and go when and where you can on a whim, if you have a free weekend coming up or a slow time at work that you can take some additional leave, why not book a trip away?
Travel is worth working for
You might have to work hard and sacrifice some things to fulfil your dream of travelling more, but it's worth working for. You will always remember experience over things and getting out and exploring is good for the soul.

​
While we are still rolling with the summer vibes, we thought it only fair that we keep the seafood eats rolling. And what better way than with a delicious seafood pasta for a weeknight dinner that is sure to be a crowd-pleaser.
And paired with a Raidis Estate The Kid Riesling you are sure you be in foodie heaven.
What you'll need:
Calamari – 3/4 lb, sliced into rings
Mussels – 1 lb, cleaned and debearded
Garlic – 2 cloves, minced
Shallots – 1/2 bulb, diced
Parsley – 1/4 bunch, chopped
Linguine – 1/2 lb
Cooking oil – 2 Tbsp
Anchovy paste (opt) – 1 1/2 tsp
Capers – 1 Tbsp
Diced tomatoes
White wine – 2 Tbsp (Use a dry white like a sauvignon blanc)
Lemon – 1/2, juice of
Method:
Bring a saucepan of water to boil. Salt generously and add linguine. Cook until al dente.
Heat a saucepan over medium-high heat. Add cooking oil and then garlic, shallots, anchovy paste, and capers to heated oil. Sauté for ~2 minutes.
Add diced tomatoes and wine, and sauté for another 3 to 4 minutes.
Add mussels to pan. Cover with a lid and cook for ~5 minutes. Give the pan a shake before removing the lid and folding in calamari.
Cook for another 3 to 4 minutes, until squid, is cooked through.
Toss with linguine and finish with lemon juice and then season to taste with salt and pepper. Garnish with parsley.
Enjoy your Italian seafood pasta (preferably with a glass of Raidis Estate Riesling!).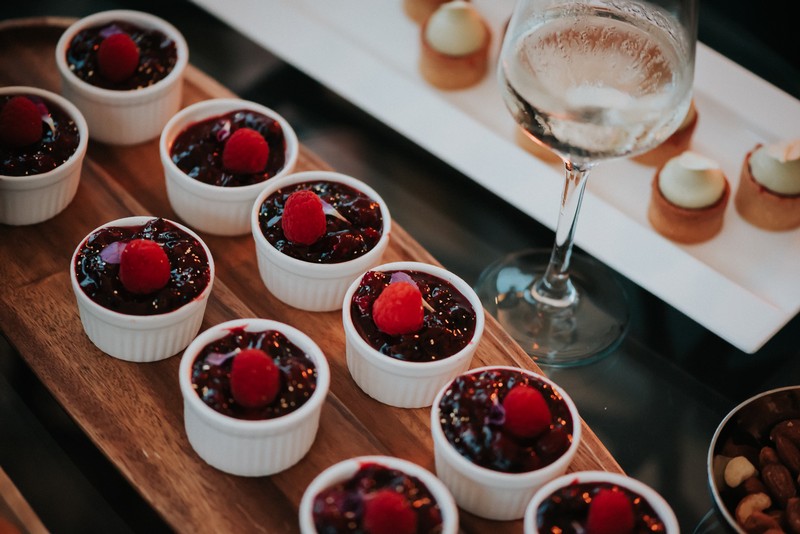 Every day should be a day that we appreciate our beloved, but Valentine's Day is a good excuse to think about doing something nice with our partner and celebrating all that they are.
If you are not into fanfare and long-stemmed roses arriving at your door that's ok, there are lots of lovely ways to spend time with the one that you love. It doesn't need to be anything fancy or extravagant, but something that you both enjoy.
Here are our top tips for something special with your lover that are creative and don't cost the earth.
Pack a picnic
And head to the beach or your favourite park. Enjoy the beautiful summer weather, the great outdoors and each others company while you enjoy some cheese, dip and olives and maybe a cheeky bottle of Raidis Estate for good measure.
No phones for 24hours
In the tech-centric society that we live in when was the last time that you sat down and enjoyed your partner's company with no distractions.
Can you remember such a time? How about giving the gift of your full attention for 24 hours and turning off your phone, putting it in the draw and enjoying each other.
Plant a garden together
What better way to celebrate love than planting a garden and watching it grow? And grow it will over a 12month period so that this time next year you will be able to sit down and look at the fruits of your labour and hopefully taste them if you plant something edible.
Cook together
Pick out a recipe you have been dying to try and plan a night of cooking, turn the music up loud, pour some wine and dance in the kitchen.
And if you are feeling adventurous, try cooking some delicious, decadent dessert together.
Write a little love note
When was the last time you told your lover how you felt about them? Why not write them a little love note telling them how special they are to you, and something for safekeeping to remind them of this when you might be going through some tough times.
And if all else fails sometimes simple is best. Pour a glass of your favourite wine and enjoy each other's company.
Happy V day lovers!


A big bowl of delicious Seafood Laksa is a sure-fire way to warm up your mid-week cooking rotation.
If you are not familiar with this deliciousness, Laksa is a popular Peranakan spicy noodle soup.
Peranakan culture is based in Southeast Asia and is a mash-up of Chinese, Malay and Indonesian influences.
So, it's no surprise that Laksa is a fusion of Chinese noodles and Southeast Asian curries, and range from the mild "Chinese" type curries to the full-blown spicy variety and it's Oh so delicious.
It's warm, nourishing and will instantly whisk you away to Singapore!
What you'll need:
250g rice vermicelli
1 tablespoon of peanut oil
1/4 cup laksa paste
3 cups of vegetable liquid stock
400ml coconut milk
750g green prawns, deveined, shelled, tails on
250g squid
100g deep-fried tofu, quartered
100g bean sprouts, trimmed
1/2 cup fresh coriander
1/2 cup Vietnamese mint
1/2 cup Thai basil leaves, plus extra to serve
1 small red chilli, seeds removed, cut into thin strips
2 tablespoons chopped peanuts, to serve
Fried Asian shallots, to garnish
Method:
Place the vermicelli in a bowl, cover with boiling water and leave for 10 minutes to soak. Drain and set aside.
Place oil in a wok over medium-high heat. Add the laksa paste and stir-fry for 1 minute. Stir in the stock, bring to the boil, then add the coconut milk and simmer for 2 minutes.
Add the green prawns, squid and tofu and cook for 2 minutes before adding 1 teaspoon of salt.
Divide the noodles between serving bowls, top with the bean sprouts and the fresh herbs. Pour the laksa soup over the noodles, dividing the seafood equally among the bowls.
Garnish with slices of chilli, peanuts, shallots and the extra fresh herbs