Roast Pork with awesome crackle!
We make our wines to be shared with the best of company, delicious food, and to create memories that last a lifetime. There is no denying we love a good feed, and who doesn't love delicious roast meat? There is something magical about a roast with family and friends that warms the heart.
And if you are going to have a roast, pork is a great option… but it's a must to have some crunchy crackle to accompany it.
We think a Pork Roast goes perfectly with our elegant and smooth Wild Goat Shiraz. This wine shows great complexity and is a great example of a cooler climate Shiraz.
Here's a little recipe to get you started.
What You'll need
2kg (1.8-2.2kg) loin of pork
2 tbsp olive oil
4 tbsp sea salt
1 tspn freshly ground black pepper
2 onions, peeled and thickly sliced
2 apples, sliced thickly in rounds
2 tbs plain flour
50ml white balsamic vinegar or apple cider vinegar
1 cup (250ml) chicken stock
Method
Remove the pork from the fridge and use a sharp knife to score the skin of the pork at 1cm intervals. Rub the oil into the skin and then the sea salt and black pepper. Make sure you push some salt into the slits. It is a lot of salt but does ensure fab crackling.
Preheat oven to 220°C (200°C fan-forced). Place the onion rounds in the middle of a large baking dish and place the pork on top. Roast for 30 minutes, then reduce the heat to 200°C (180°C fan-forced) and roast for another 30 minutes.
Remove roast from oven, baste pork and arrange apple slices around pork. Roast for another 20 minutes until apples are tender. At this point, if the crackling has not crackled, increase the oven temperature or turn on the grill and crisp for 5 minutes.
Remove pork and apples from oven and rest on a plate for 10 minutes before carving. Use an oven mitt to tilt the baking dish, so all the fat runs to one corner, spoon off most of the fat, leaving only 2 tbsp. Heat the dish over a hot plate, stir in plain flour and use a wooden spoon to dislodge all the yummy roasted bits.
Pour in white balsamic vinegar, chicken stock and any juices that have collected under the pork. Stir until thickened.

Serve the carved pork with the roasted onion rings, apples and gravy. Roasted potatoes and steamed green beans make a perfect accompaniment.
Enjoy!


Living the Dream
There's a romantic notion that making wine is living the dream. That it's a glamorous lifestyle, full of sharing wines, traipsing through vineyards, travel, and squashing grapes into liquid heaven. For the most part, it is the dream, but it also takes a lot of hard work, blood, sweat and tears to bring you delicious wines from the vineyard to the table.
Raidis Estate is a proudly South Australian family-run winery. The team is driven by a passion and a belief that through making elegant, small batch wines designed to be consumed with the best of company and delicious food, that they are adding value to the lives of others.
Emma and Stevo spend a lot of time crafting their wines and getting them just right. It's a passion that is hard to put into words, but seeing their bottles on others' tables being consumed with family or friends will always put a smile on their faces.
Their Greek heritage has inspired them to work the land. Since leaving Greece more than 60 years ago, Chris and his wife Fran have worked the Terra Rossa soils of Coonawarra, growing tomatoes, lettuces and strawberries.
Their son Steven joined in the family business, planting vines in 1990, and from there the winemaking passion grew into this proudly family-run business.
Stevo and his wife Emma are the family behind the wines and spend their days crafting wines, taking guests through tastings in the cellar door, attending events and activations to get the word out there about their wines, and putting on some cracking events in the Coonawarra as well.
It is a passion, it is a lifestyle, and along with raising their two beautiful children they are living the winemaking dream.
So next time you pick up a bottle of wine off the shelf in your local bottle shop or stop in at a cellar door, just remember that you may just be supporting a dream and nurturing a passion.


JUST A LITTLE SUMMER REFRESHER
Summer is the perfect time for BBQ's with friends on the long summer nights, with plenty of fresh ingredients and the kids running around at the beach, or climbing trees in the backyard.
And of course, you'll want light, delicious, and flavoursome food to pair with your Raidis Wine! We have the perfect fish recipe for the summer months that can be prepared quickly and is sure to impress your guests.
This BBQ fish pairs perfectly with our Pinot Gris; which we think is the perfect wine for those long summer nights.

BARBEQUED FISH WITH LIME LEAVES AND LEMONGRASS
This recipe is super simple and so delicious for the warm summer months.
All you need to do is get a whole fish of your choice, mix the ingredients, score the fish, put the dressing over it and cook on the BBQ for about 5/6 mins on each side.
Then voila, dinner sorted!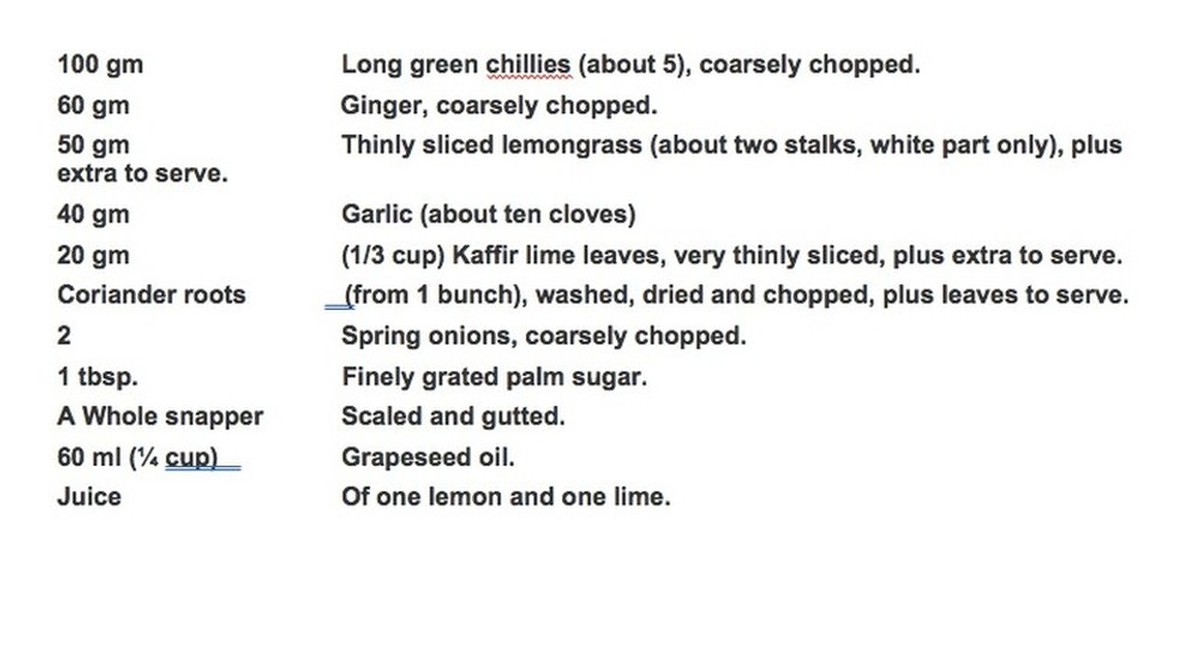 Enjoy!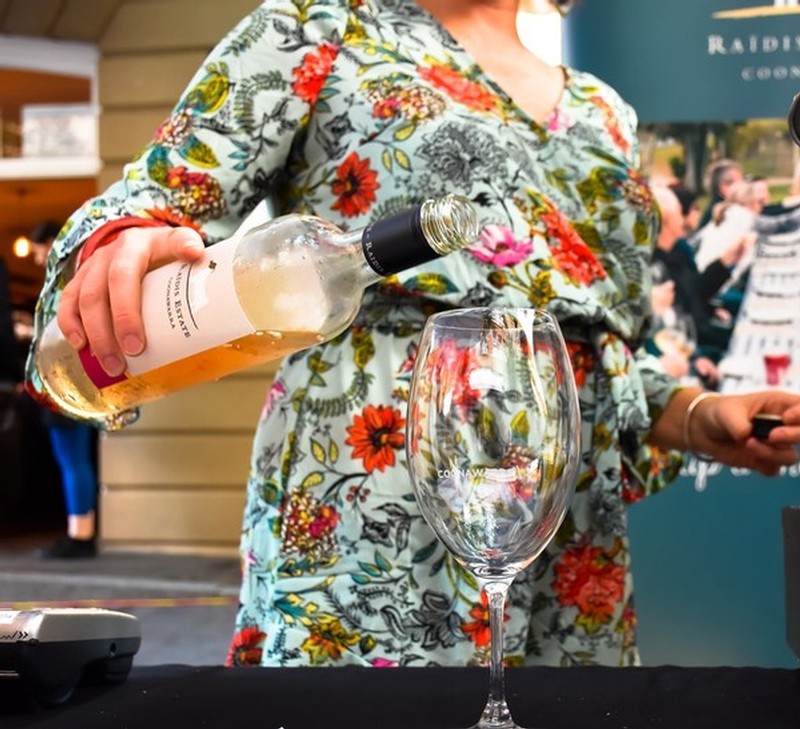 Don't be a Silly Goat, become a Billy Goat
We don't want you to be a silly Goat and miss out on all of Raidis Estate's best wines, so it might be best for you to become a Billy Goat Club member. All the cool kids are doing it, and there are so many excellent benefits to becoming a Bily Goat Club member with Raidis Estate. If you'd love a dozen of our premium wines picked by us and delivered to your door twice a year, this club is the one for you. You can also choose your wines if you have some favs by joining our custom club.
We are passionate about making easy to drink, elegant wines and sharing them with you. We offer priority to our most limited wines through the club, with no membership fee and FREE freight for whole cases.
Other impressive benefits include 15% Savings on ALL Raidis Estate wines and merchandise all year round.
Exclusive Gift service – we will send wine and merchandise on your behalf to family and friends with a personalised card. How cool!
Invitations to events and bonus offers – including the coveted Greek Charcoal Grill. Yummo
Vintage reports and tasting notes with suggestions of when to drink and food accompaniments.
And last but by no means least, a Billy Goat Club Member key ring.
So join us in the coolest club in town. We'd love to have you and look forward to sharing our best wines with you.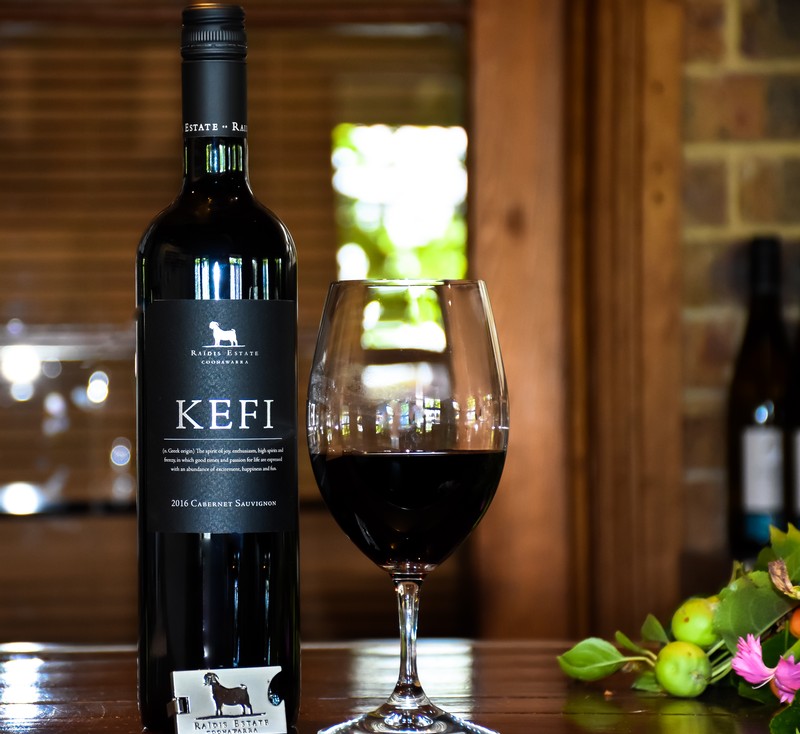 Why you should visit us this January
During January our cellar door will be open every day. If you have never been to the Coonawarra before, or even if you are a returning regular, Raidis Estate is well worth a visit.
The cellar door is set amongst an array of fruit trees, and grape vines with a full veggie patch out the back lovingly tended to by 'Chris', Raidis Estate's resident green thumb. We also have multiple chickens and our beloved winery dogs. When visiting Raidis Estate, you will be instantly welcomed into our home and our family history. We are a small-batch, artisan winery and we love to make ready to drink, elegant wines for you to enjoy.
Located on the northern edge of the Penola township in the heart of the Coonawarra, stop by and have a taste of our wines while sitting in the garden enjoying the warm summer breeze. On most days you'll have the opportunity to meet Emma and Stevo, the passionate duo behind the wines and have them take you through a guided tasting. On tasting are some of the best drops Raidis Estate has to offer, with delicious whites and some cracking red wines as well.
Open every day in January from 12 pm – 6:00 pm, pop past for a tasting and you might just be lucky enough to get a guided tour of our gardens by Chris himself.
And if we're not around when you are passing through, please give us a call, and we will arrange a tasting time that suits you.
We hope to see you soon.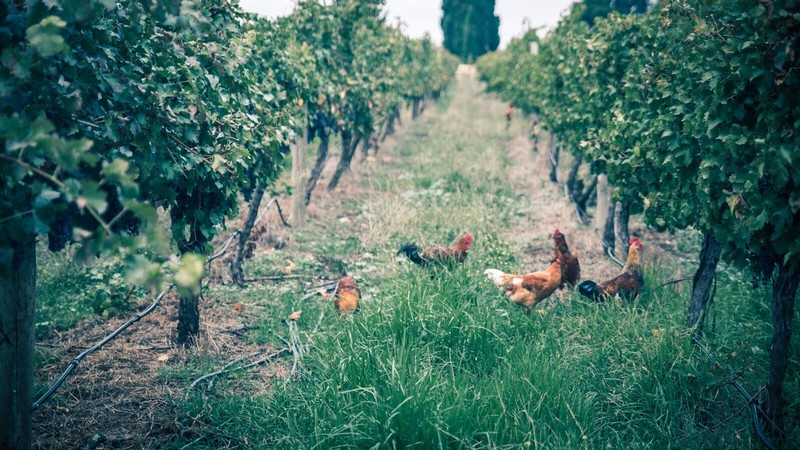 Ain't no party like a Raidis Estate party
With Christmas and New Years behind us it's now time for relaxation and to de-stress a bit before jumping into another busy year. A time to enjoy the summer months, beach visits and longer days, and if you are the lucky ones that have most of the month off, we are jealous, and we hope you enjoy it.
At Raidis Estate we sure do love to throw a fun event, and next week we have a cracker of a party coming up if you are looking for something to do after winding down from Chrissy and NYE festivities.
We have Jack Howard, the legendary trumpeter who performed with the mighty Hunters and Collectors playing at Raidis Estate on Saturday the 13th of January. We will also have the one and only Chris Raidis cooking up our famous Greek Charcoal grill – Yum!
On top of that, there's delicious wine on offer, and buses from Robe and Beachport to get you here and home safely.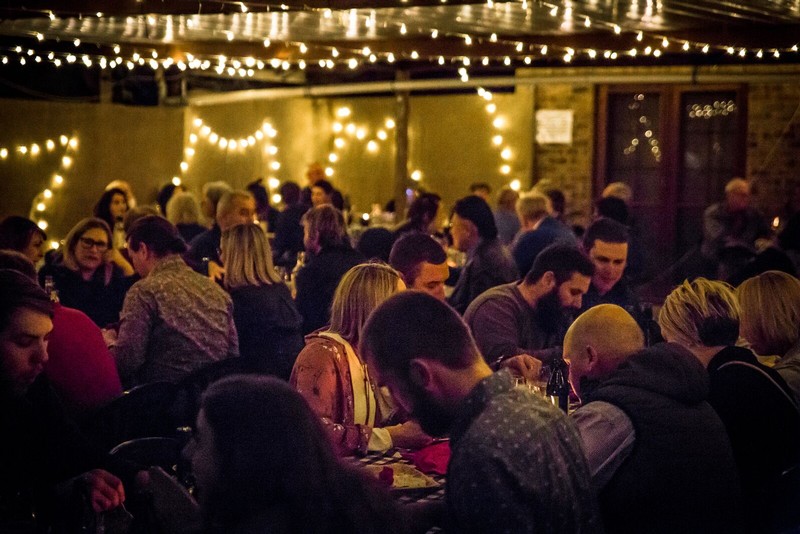 This is an event not to be missed and is set to be a great night.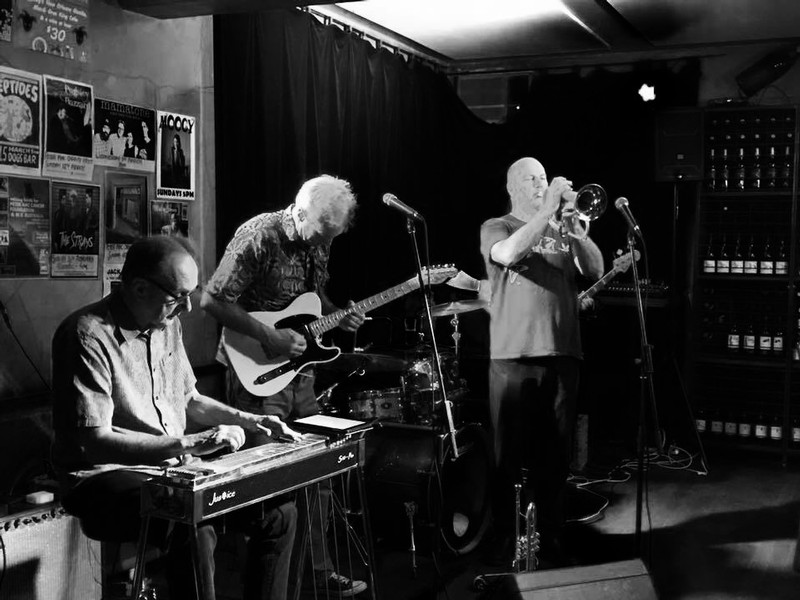 The biggest Coonawarra wine myth busted!
There are always a lot of myths around wine regions and what they do well, and we are about to smash one of the biggest myths about the Coonawarra region here and now!
The biggest myth about the region as a whole is that the only good thing that comes out of the region is Cabernet Sauvignon. While it's true that the Coonawarra does some cracking Cab Sav's (some of the best in Australia), in our eyes, it also has some other hot and ready to drink varietals that are worth a try.
There are lots of different white varietals produced in the region which people don't often associate with the Coonawarra. For example; Some delicious Rieslings are coming out of the region. They have a different flavour profile to a classic Watervale Riesling but packing a punch in taste and flavour; they are tangy and refreshing and perfect for a summer's day.
There are also other varieties such as Sauvignon Blanc's, Pinot Gris and even some wineries making some pretty tasty bubbles here and there. "We have a lot of winemakers doing exciting and different things, and taking it to the other regions".
So while the region is often known for those punchy and full flavoured Cabernet Sauvignon's, there are a lot of pretty, more elegant styles of wine coming out of the region that can hold their own on the Australian (and world) wine stage.
Head to the Coonawarra this summer and give some of these top drops a try.

The perfect Pair
Picking the perfect wine for Christmas day to go with your meal can be a daunting task. Even for a wine connoisseur, it can sometimes be hard to pick what might work best and please everyone, especially if you have that fussy Uncle at the table who speaks all the wine jargon that completely goes over your head. But it need not be an added stress for you this Christmas…
We get it, you like wine, and you just want to drink something delicious without all the fuss.
Here are our tips for picking a bottle of wine that will pair deliciously with your meal and will silence that pretentious Uncle.


Seafood
Yep, you guessed it; we are going to recommend a white wine for sure! But which one? We recommend both a crisp, cold Riesling that pairs well with raw oysters and prawns or an elegant Sauvignon Blanc which can match fabulously with some smoked Salmon or white fish.
Now I know we are biased, but our Raidis Estate Riesling and our Pinot Gris are both cracking wines for the warm summer months and will be delicious on any Chrissy table. If you are not a white wine drinker, some of the lighter style reds can work well too. As can a sparkling Shiraz!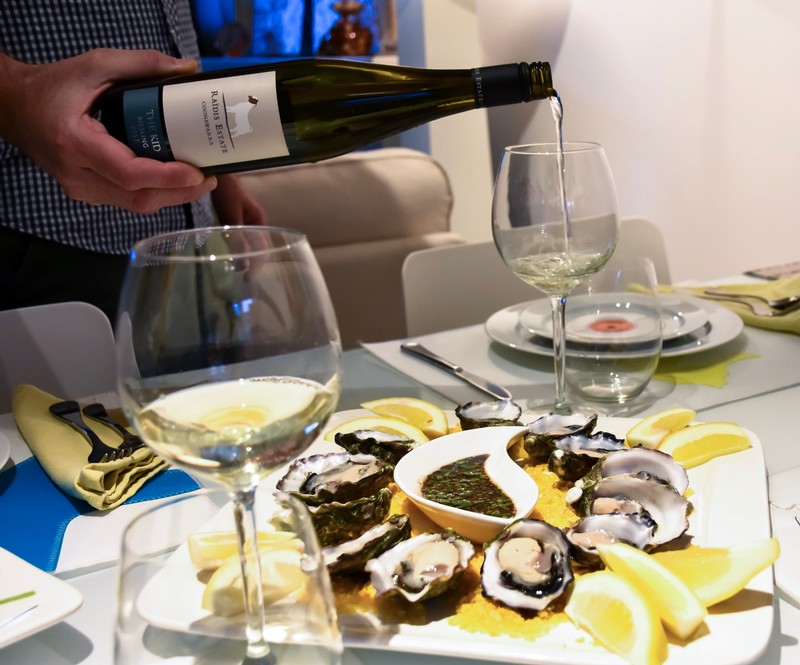 Glazed Ham
Who doesn't love a gooey and delicious glazed ham on Christmas day… Am I right? And the best part about ham is the leftover ham sandwiches for a week after Christmas. Ham can be paired perfectly with a beautiful Pinot Gris to cut through the sweetness of the ham while having a little more body and complexity than some lighter whites, so it doesn't get lost. Alternatively, some of the more elegant red varietals such as our Shiraz won't disappoint.


Lamb
An Aussie tradition in many Australian households is to have a delicious leg of lamb as the main affair on your Christmas table. We think lamb pairs best with a delicious, soft style red wine; something like a Merlot or a lighter Shiraz even, as a little spice adds to the experience. But, if reds are not your jam with Lamb, Pinot Gris can work well too, just depends on your tastes.
Roast Pork
Crackle? Yes, please! Roast pork is that smell that can make you hungry from the other end of the block, and there is nothing better than a Weber pork roast on Christmas day. Pair it with a delish Pinot Gris or Riesling.
Whatever you decide to drink on Christmas Day, don't over think it too much. As long as it's shared with family, good friends, and delicious food it's bound to be a winner.
Need to stock up, shop below:

The Coonawarra, she's a beauty – Our Top 5 tips
Australia has so many cracking places to visit, and the Coonawarra should be high on the list of those places if you've never been before. We are biased, I know, but this incredibly gorgeous place in the world has a lot going for it, not to mention some delish wines.
It really is one of those hidden gems.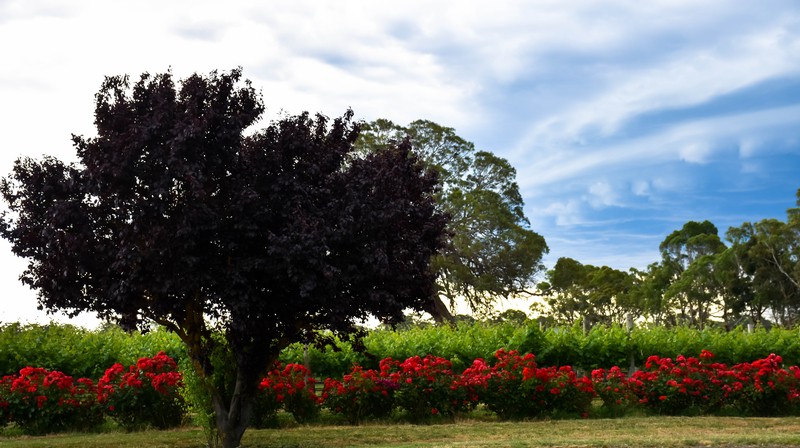 Our top tips:
Enjoy the drive
This seems like a given, but if you are coming from Adelaide or Melbourne, the drive to the Coonawarra is just stunning. If you are coming down from Adelaide, there are the silos at Coonalpyn that are a great selfie spot, and driving into the Coonawarra itself is a pretty amazing experience as you pass all the vines and wineries. If you are coming from Melbourne, take your time and do the scenic route along the Great Ocean Road.
Eat
We have some great restaurants for you to enjoy, from easy eats with all the trimmings at our fully stocked country bakery, to award-winning restaurants such as Pipers of Penola, located on the doorstep of the Coonawarra. There really is something for everyone. Just be sure to check opening hours for the time of year you are visiting.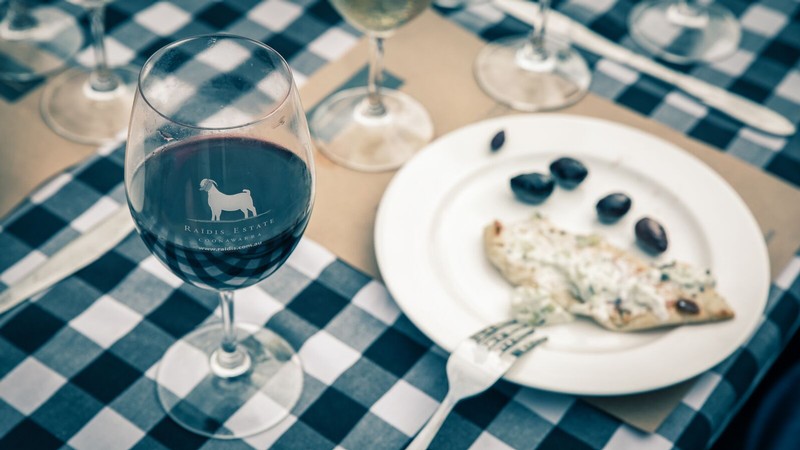 Wine Test
This one is a given, but there are over 20 wineries on the strip in the Coonawarra region. A little-known fact if you haven't been here before, is most of the wineries are super close together, so it's easy to pop from one to another.
Tour
Jump on board with Coonawarra experiences and let someone else do the hard work of planning your itinerary. These guys do half-day and full-day tours. They will make sure you make it to all the cool spots around town.
Beach life
Just 1hr on from Coonawarra is the gorgeous seaside town of Robe. A perfect spot for fish and chips on the beach while watching the sunset, and drinking a beautiful bottle of Coonawarra wine from your tour. Delish.
So, jump in the car this summer, throw caution to the wind, and come and visit us in our hometown.
And be sure to stop by Raidis Estate to stock up on all your summer favourites. Cheers!

Jack Howard hits Raidis Estate
You're sitting on the grass, shoes off, and a glass of cold vino in hand. The gorgeous sounds of a trumpet and band sound out around you, and as you sip on your Pinot Gris the summer breeze drifts by, and you feel like you could sit in this exact point in space and time for forever. You are getting lost in the music and allowing the atmosphere to carry you into a state of relaxation.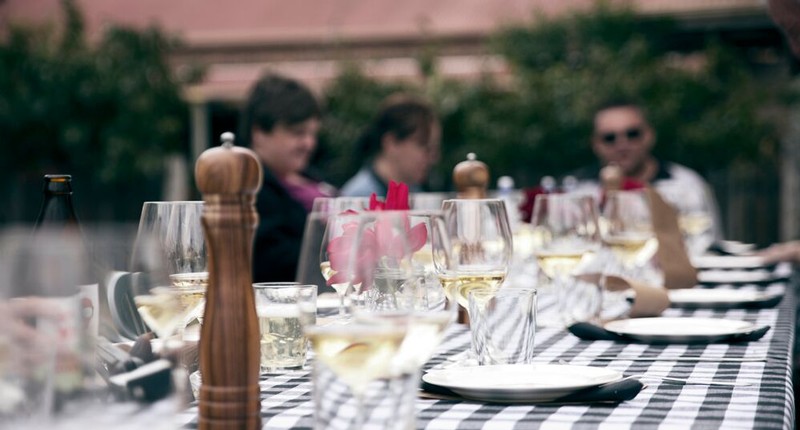 Surrounded by your best friends, and as you look around thinking life is pretty darn good, your partner plonks down beside you with a big plate of Charcoal Grill and a classic Coonawarra Cabernet in hand. Yum, you are in heaven.


Summer is for friends, wines, and good times. You wish you could just freeze moments like these when you are at your most relaxed, enjoying great food, good company and a delicious glass of vino.
These moments make the tapestry of our lives and become the memories that we cherish the most.
We believe events are all about good food, great wine, and having fun times, and we are thrilled to bits to have the legendary Jack Howard and The Long Lost Brothers perform at Raidis Estate Winery this coming summer. January 13th, 2018 to be exact.
Jack is a founding member of the mighty Hunters and Collectors and will join us off the back of a recent world tour with Midnight Oil as their horn/keyboard/percussion man.

He has played with some other big acts along the way too; Rodriguez, The Violent Femmes, and The Living End just to name a few. He's the only trumpeter in the ARIA Hall-of-Fame and has released many records over fifteen years.
And he is about to play at our place in the beautiful Coonawarra wine region.
Jack's music is powerful, bluesy, driving - not a million miles from H & C - but at the same time dark and intimate, and we think it pairs perfectly with a glass of Raidis Estate wine and one of our famous Charcoal Grills.
We are so excited for this event and hope you can join us for an evening that we know will be etched in your memory forever.
We provide a night of dancing, fun and frivolity!
As always, Chris Raidis & the Raidis clan will be cooking up a storm on the Charcoal Grill.... You haven't had Charcoal Grill until you've tried Chris's, and the hospitality provided is what memories are made off.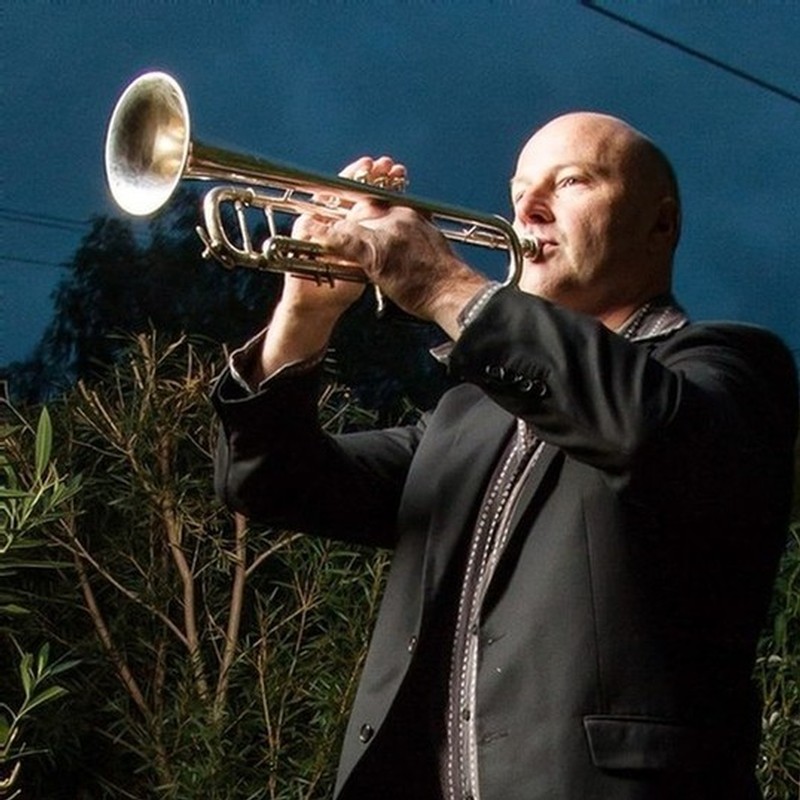 More details: here