Now that the weather is warming up and we are all coming out of hibernation it's the perfect entertaining weather.
You might be dusting off the bottles of white wine and looking for some sunshine and delicious eats.
And what could be better than a delicious seafood Paella with fresh mussels and prawns? Yes, please!
This dish pairs perfectly with a crisp white wine like our 2019 Sauvignon Blanc.
What you'll need:
1 x bag of mussels
1 tbsp olive oil
2 chorizo sausages, chopped
1 cup pancetta, cut into small pieces
1 red capsicum, deseeded and roughly chopped
5 cloves garlic, finely chopped
1 onion, peeled and roughly chopped
1 bunch parsley, stalks and tops separated, both roughly chopped
Sea salt and pepper to taste
1 tsp smoked paprika
1 pinch saffron
1 cup paella rice (medium grain rice will do)
1 x large can of chopped tomatoes
4 cups chicken stock
1 x can chickpeas, drained and rinsed
12 large prawns, shells removed
A handful green beans, trimmed and sliced
Lemon wedges to serve
Method:
Rinse fresh Mussels under tap water.
Heat olive oil in a large pan over medium heat.
Add the chorizo and pancetta. Fry until everything is crispy.
Add the pepper, garlic, onion, parsley stalks, salt, pepper, paprika and saffron. Sauté over low heat for 10 minutes, until vegetables soften.
Add the rice and chickpeas and stir well to coat the rice.
Then add 3/4 of the stock, bring to a boil then turn down to a gentle simmer. Stir from time to time, about 15 minutes, until rice still has a little bite to it.
Add Mussels and Prawns, plus a little more liquid, if it looks dry. Stir well until the mussels begin to open. Add green beans and cook, stirring, a few minutes more, until rice is nicely cooked through.
Serve with lemon wedges and chopped fresh parsley.


A little bit lighter in blush colour for this vintage, our Cheeky Goat Pinot Gris tastes as good as ever. Pale in colour with a salmon hue, it has the aroma of perfumed musk and rose petals with a hint of ripe raspberries.
A juicy palate of fresh red fruits along with peach and raspberries. A long-lasting finish with a lovely mouthfeel.
As with all our wines, they are best enjoyed shared with friends over a meal and a good time.
So, what pairs best with our Cheeky Goat?
Thai green chicken curry
Our beautiful Pinot Gris pairs perfectly with something with a good hit of spice, to bring out the lovely flavours of this stunning drop.
And what could be better than a chicken curry? Think Thai Green or Tikki Masala to add some complexity and fun to your dinner party.
Creamy Salmon Pasta
Light creamy sauce, salmon and a delicious Pinot Gris go hand in hand. This type of dish is easy to whip up when the friends surprise you with a weeknight visit and is oh so good, hearty and compliment the flavours of your delicious wine.
Seared Scallops
Beautiful fresh seafood is always a winner with white wine, and seared scallops are the perfect pair.
These flavour filled morsels go perfectly for a starter for a weekend dinner party or as the main affair.
Roast Pork with spicy apple sauce
For something that will really wow your guests, why not pair your Raidis Estate Pinot Gris with roast pork, with spicy apple sauce.
You are guaranteed to have a showstopper on your hands. And something your friends will be asking for the recipe for.
Pinot Gris will perfectly pair with a yummy dish like roast pork.
Whatever food you pair our Pinot Gris with, ensure that you open it with great people for the most beautiful results.

​
Snap, crack, pop. Who doesn't love the sound, the smell and the taste of a delicious pork roast, loaded with crackling?
It is the one thing that is sure to bring the family to the dinner table fast! But getting the perfect crackle can be a challenge, it often starts with finding the right cut of pork and the way you prepare and cook it.
Here is a recipe that is sure to get the mouth-watering.
What you'll need:
2.25kg loin of pork, bottom bone removed, top bone left in.
1 small onion, peeled
1 tbsp plain flour
275ml dry
275ml of Vegetable stock
Sea salt and freshly ground black pepper
Method:
Pre-heat the oven to 240C
While the oven is preheating, score the skin of the pork. It will be scored already, but it's always best to add a few more lines. To do this, you can use the point of a very sharp paring knife.
Now place the pork in a tin, skin-side up, halve the onion and wedge the two pieces in slightly underneath the meat. Take about 1 tablespoon of crushed salt crystals and sprinkle it evenly over the skin, pressing it in as much as you can.
Place the pork on a high shelf in the oven and roast it for 25 minutes. Turn the heat down to 190C, and calculate the total cooking time, allowing 35 minutes to the pound, then deduct the initial 25 minutes cooking time. In this case, it would be a further 2½ hours.
There's no need to baste pork as there is enough fat to keep the meat moist. The way to tell if the meat is cooked is to insert a skewer in the thickest part, and the juices that run out should be clear without any trace of pinkness.
Once cooked, remove it from the oven and give it at least 30 minutes resting time before carving.
The onion will probably be black and charred, which gives the gravy a lovely rich colour. Leave the onion in, then place the roasting tin over direct heat, turned to low, sprinkle in the flour and quickly work it into the juices with a wooden spoon.
Turn the heat up to medium and gradually add the cider and the stock, this time using a balloon whisk until it comes up to a simmering point and you have a smooth, rich gravy. Taste and season with salt and pepper, then discard the onion and pour the gravy into a warmed serving jug. Serve the pork carved in slices, giving everyone some crackling.
And enjoy with your favourite wine.


There is plenty of reason to plan a road trip this Spring, not the least celebrating the end of the long and cold winter months but also to get out and about and see Australia.
And if you are yet to visit the Limestone Coast or Coonawarra regions you really should plan a trip to our gorgeous spot of the world.
There are plenty of fun things coming up in our region this Spring; with our 10th birthday celebrations being at the top of the list!
Here are some great reasons to get on the road this Spring and explore.
Relax, recharge and re-set
Taking a well-earned break from the rat race can be just what the doctor ordered if you are feeling a little less than amazing coming out of a long winter.
It's easy to forget just how good it feels to unplug, put the emails to out of office and take some time for yourself, your loved ones and to spend some quality family time.
Having downtime is essential for our health but also helps us manage the day to day stresses of life.
Nothing beats a road trip
Having all the kids, the dog and the luggage squished into the car for an extended period might fill you with dread.
But instead, look at it as an opportunity to spend some time together with no other distractions. And a good game of eye spy can be a great family game and way to pass the time.
See Australia
We can all be guilty of taking this beautiful country that we call home for granted, and most of us have places they have always wanted to visit but have never gotten around too.
A road trip can send you straight into places that might not be your end destination but can be the best part of the journey. You meet new people, see new places and experience things that will make memories forever.
Support a local
Local and regional business is the lifeblood of Australia, and when you are on the road, you have the opportunity to support local businesses; cafes, roadhouses, wineries, etc.
To sample local produce and enjoy local hospitality.
So get out and explore Australia.


Who wants to add a delicious homemade burger to the cooking repertoire?
This chicken burger is not for the clean eating fans out there! This recipe is indulgent, and it's jam-packed with deliciousness to boot.
It's the kind of chicken burger that you dream about…
What you'll need:
4 skinless chicken breasts
350ml of buttermilk
100g plain flour
1 tsp dried oregano
1 tsp smoked paprika
2 tsp cayenne pepper
1 tsp garlic powder or granules
Vegetable oil for frying
To serve:
6 tbsp of hot chipotle sauce, mixed with 1 tbsp mayonnaise
4 halved and toasted brioche or seeded buns
6 tbsp guacamole
1/4, shredded iceberg lettuce
8 rashers, cooked until crisp smoked streaky bacon
Sliced gherkins
Method:
Lay each chicken breast between 2 pieces of cling wrap and bash with a rolling pin until 2cm thick.
Add to a bowl with the buttermilk, cover and chill for at least 2 hours but preferably overnight.
Mix the flour, oregano, paprika, cayenne pepper, garlic powder and some seasoning on a large plate.
Remove the chicken pieces from the buttermilk and dredge in the seasoned flour, shaking off any excess.
Fill a large pan no more than a third full with vegetable oil and heat to 175C or until a piece of bread browns in 40 seconds.
Cook the chicken, in batches, for 4-5 minutes turning halfway, until deep golden brown.
Drain on kitchen paper and keep warm while you fry the rest.
Spread a dollop of chipotle mayo across one bun half and a dollop of guacamole on the other.
Pile up the sandwich with lettuce, streaky bacon, gherkins and chicken and press together.


All of our wines are made to enjoy with good times, great friends and some excellent food.
Our new 2019 The Kid Riesling is out and is full of the aroma of fragrant citrus and green apple on the nose.
It has a palate of intense lime juice and stone fruits and shows texture with fine acid.
So, what is the best thing to pair our The Kid when trying to impress your friends?
Here are some suggestions:
Platter favourites
Riesling and platters on a Sunny Saturday afternoon, go hand in hand. Try adding a softer style goat cheese and some fresh figs and green grapes to enhance the flavours of this beautiful drop.
Seafood
Nothing complements seafood as well as a clean and crisp Riesling. And the world is your oyster with this one. Think oysters, a prawn pasta or risotto or even a cheeky crayfish if you happen to be down the South East way and snag yourselves one of these babies.
Roast Chicken
A delicious roast chicken with crispy potatoes, some baked fennel and a fresh green salad can be a perfect pair for our delightful Riesling. And by adding some spice to your chicken seasoning, it can help lift the flavours of the Riesling to create a truly yummy dining experience.
Fish and Chips
When you want something super easy to serve, possibly sitting on the beach with your shoes off, a jumper on and your friends gathered around there is something simple but yet complex with pairing our 2019 The Kid with some fish and chips.
Whatever way you enjoy your Kid, we hope it is paired with good times and great friends always.


There are few things more delicious than opening that bottle of red wine after a long day/ week as this cold winter weather drags on.
But there is something that will add to the happiness levels of cracking open a bottle of wine, and that is pairing it with something rich, decadent and chocolate!
Red wine and chocolate are a perfect match made in heaven. And anything with red wine and chocolate in the title has our immediate attention!
What you'll need:
For the Chocolate Cake:
2 cups granulated sugar
1 cup light brown sugar, packed
2 and 3/4 cups all-purpose flour, divided
1 and 1/2 cups unsweetened cocoa powder, sifted
3 teaspoons baking soda
1 and 1/2 teaspoons baking powder
1 and 1/4 teaspoons salt
4 large eggs, at room temperature
1 and 1/2 cups full-fat sour cream
1/2 cup whole milk
1 cup of your favourite red wine (Billy Cabernet would be perfect!)
3/4 cup vegetable oil
1 Tablespoon vanilla extract
1/2 cup hot water
For the Red Wine Frosting:
2 and 1/2 sticks (10 ounces) unsalted butter, softened.
3 and 1/4 cups confectioners' sugar, sifted
1/4 teaspoon salt
8 ounces dark chocolate, melted and cooled for 10 minutes (I suggest using 60% cocoa or above)
4 and 1/2 Tablespoons of your favourite red wine.
Method:
For the Red Wine Chocolate Cake:
Preheat oven to 180C. Cut out three 9-inch round segments of parchment paper to line your cake pans with.
Spray each pan generously - sides and bottom - with nonstick cooking spray, then place the parchment paper cut out in the bottom of the pans and spray again. It's important to make sure every bit of pan and paper are sprayed, so your cakes don't get stuck. Set pans aside.
In the bowl of a stand mixer fitted with the paddle attachment, or in a large bowl using a handheld electric mixer, combine both sugars, flour, cocoa powder, baking soda, baking powder and salt; mix on low until dry ingredients are thoroughly combined. Use your hands to break up any large clumps of brown sugar, if needed. Set aside.
In a separate large mixing bowl, combine the eggs, sour cream, milk, wine, oil, and vanilla extract; whisk well until ingredients are thoroughly combined. Pour mixture into the dry ingredients and beat on low speed until just incorporated. Pour in hot water and continue mixing until thoroughly combined; about 1 minute.
Divide the batter evenly among prepared pans. Bake in preheated oven for 30 minutes, or until a wooden toothpick or cake tester inserted in the centre of a cake comes out clean or with just a few moist crumbs attached. Cool cakes in the pans, placed on a cooling rack, for 15 minutes, before removing from pans and transferring to cooling racks to cool completely.
For the Red Wine Chocolate Frosting:
In the bowl of a stand mixer fitted with the paddle attachment, or in a large bowl using a handheld electric mixer, beat the butter on medium speed until completely smooth.
Reduce the speed to low and gradually add in the confectioners' sugar, beating until all of the sugar is completely combined. Add in the salt and chocolate and beat smooth. Beat in the wine. Once all of the ingredients have been incorporated, increase the speed to medium-high and beat for a full minute.
To serve:
Using a serrated knife, carefully trim the raised top of each cake, making each one an even, level surface. Transfer 1 layer to a large plate or cake stand. Spread an even layer of frosting on top, then top with another cake layer, and repeat. Top with the final cake layer. Frost the top and sides of the cake. Slice and serve or keep refrigerated for about a week.


Just like fine wine, some things get better with age and Raidis Estate is one of them, we are thrilled to be turning ten later this year.
A lot of hard work, long days and nights and meeting so many fun people has happened since we first opened our doors ten years ago.
We have made friendships, some excellent wines and had a lot of fun in the process.
And in true Raidis Estate style, we will be celebrating with a big old party with the Greek Charcoal Grill pumping out our famous rice, and grilled meats and classic Raidis hospitality.
There will also be live music, Raidis Estate finest on pour and beers for the beer lovers as well.
It's set to be a great way to celebrate all the hard work and the fantastic people who have and continue to support us.
And to add to the excitement, we will be officially opening the doors to our new Cellar Door space. It's set to be a celebration to remember.
We really hope we see you all at our place on the 2nd of November to celebrate what was, a future of more delicious wines, fun times and friendships to be made.
Book online so you can secure your spot HERE

​
A big bowl of mussels, some crusty bread and red wine is the way to get you through these last few lingering weeks of winter.
Mussels take on a delicious and luxurious taste when cooked in a red wine broth. And of course, this dish is perfectly paired with a bottle of Merlot or Shiraz, a green salad and crusty bread.
What you'll need:
1 head garlic
Extra-virgin olive oil, for drizzling
4 tablespoons butter
4 sprigs fresh thyme
2 cups fruity red wine
Coarse salt
4 pounds fresh mussels, scrubbed thoroughly
1/2 cup fresh flat-leaf parsley leaves, chopped
Method
Heat oven to 180 degrees. On parchment-lined foil, drizzle garlic with oil; tightly seal. Bake until tender, about 1 hour. Once cool, remove cloves from papery skin and set aside.
In a large pot, heat 1 tablespoon butter over medium heat; add thyme and roasted garlic cloves. Cook 1 to 2 minutes, then add wine and season with salt. Bring to a boil, add mussels, and reduce heat to medium. Cook, covered and undisturbed until shells have opened, 6 to 8 minutes.
Stir mussels and, with a slotted spoon, transfer to a warm serving bowl. (Discard unopened shells.) Return broth to a boil and reduce by half. Whisk in remaining 3 tablespoons butter and parsley. Ladle sauce over mussels and serve immediately.
Enjoy!


Living the dream in Singapore was an idea born out of "How fun would it be to…." take some of our nearest and dearest club members on an adventure of a lifetime.
And what better place than in gorgeous Singapore a food and travel mecca!
And... it's a lot warmer than the Coonawarra at this time of the year.
We could talk all day about the fabulous time that we had on our trip.
But a better way to get the down-low on the trip was asking one of our attendees their thoughts.
So here are the thought on Living the Dream in Singapore from one of our fabulous club members Tony who came along with wife Ange.
Why did you decide to come to Singapore with us?
We decided to join LTD because we really enjoy Stevo and Emma's company (Who wouldn't.. wink, wink)
And the opportunity to experience fine Singapore dining with the old-world wines compared to the Raidis range, which we were lucky enough to do at the second-night dinner.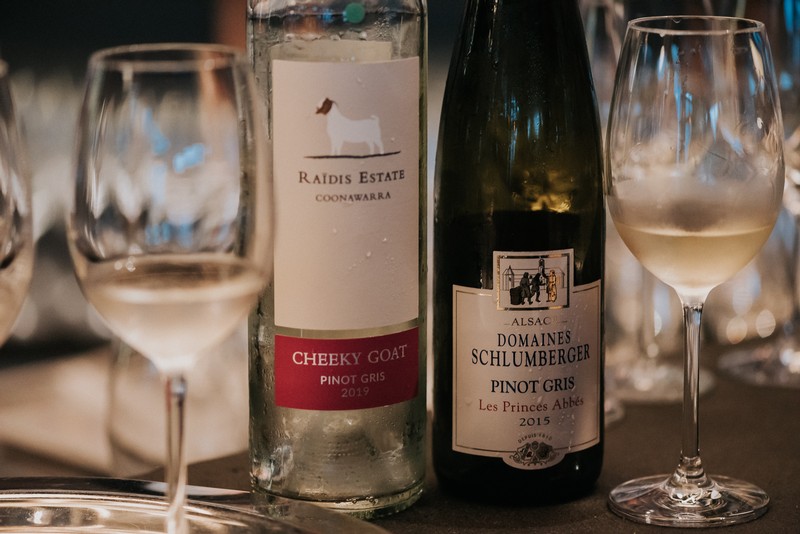 What was your favourite part of the trip?
It's hard to isolate a single favourite part of the trip because the dinners and welcome drinks were all fantastic.
The opportunity to have a private room in Skai Bar overlooking the quay and harbour was simply spectacular.
The cooking class conducted by home cooks who have been supported back into the workforce was brilliant.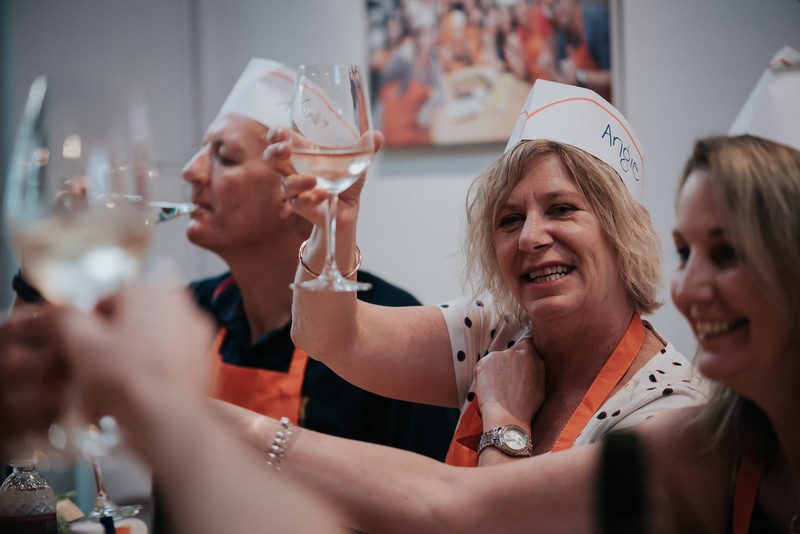 And we took the opportunity to make a holiday for the week, and Singapore has plenty to offer for everyone - great choice.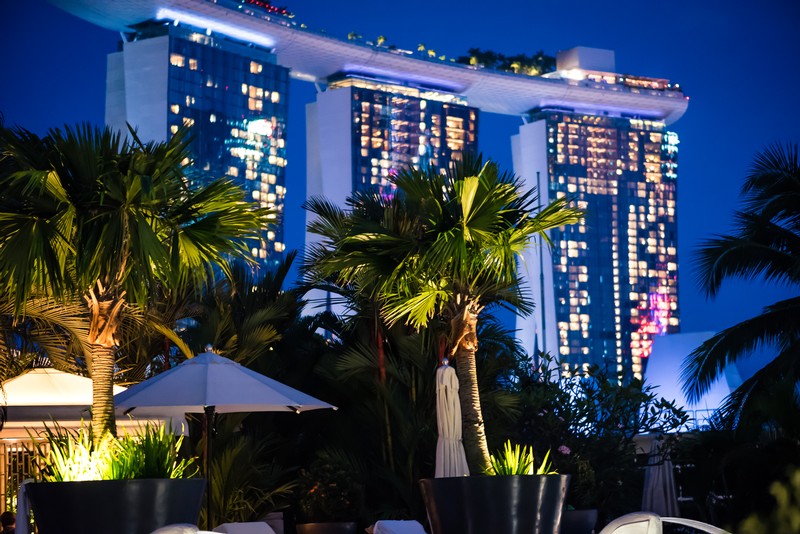 When in Singapore you need to try?
When in Singapore you need to try the Skai Bar, Level 33, Violet Oon restaurants and some of the local hawkers' markets for local treats (some are Michelin Star rated).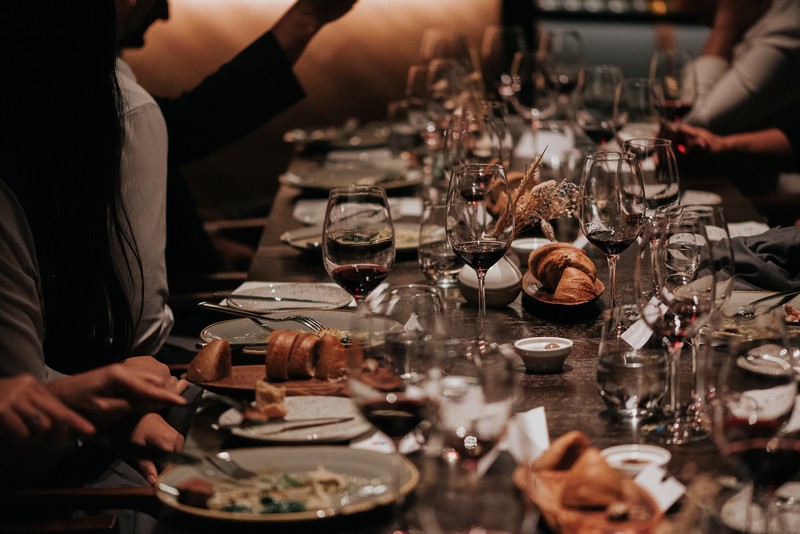 There are plenty of bars and restaurants that cater to cheap as well as high-end dining. We found a beautiful Thai Green Beef curry near Arab Street.
The Wine and Gourmet Friends restaurant near Chinatown is brilliant, and William is a great host!!
What is your favourite Raidis Estate Drop
My favourite drop from Raidis is 'The Trip' but the drink for every day is their Merlot.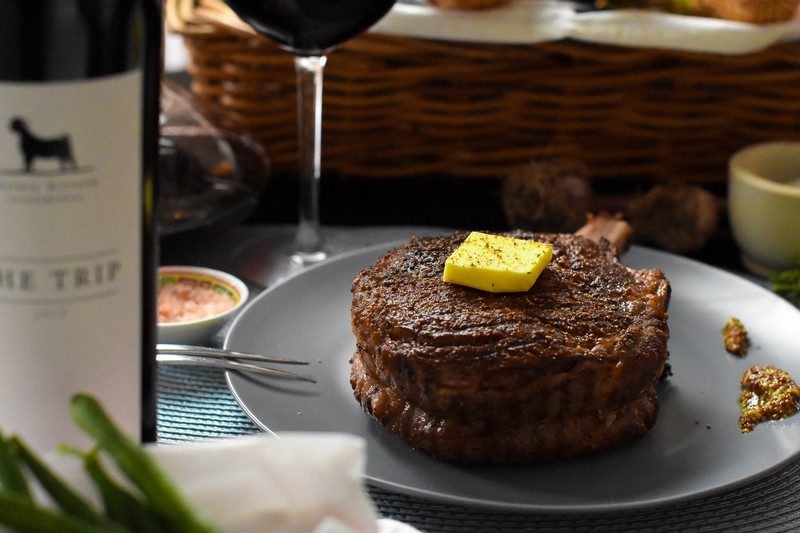 If you could describe the trip in a couple of words, what would they be?
Live, Love, Laugh 💕💕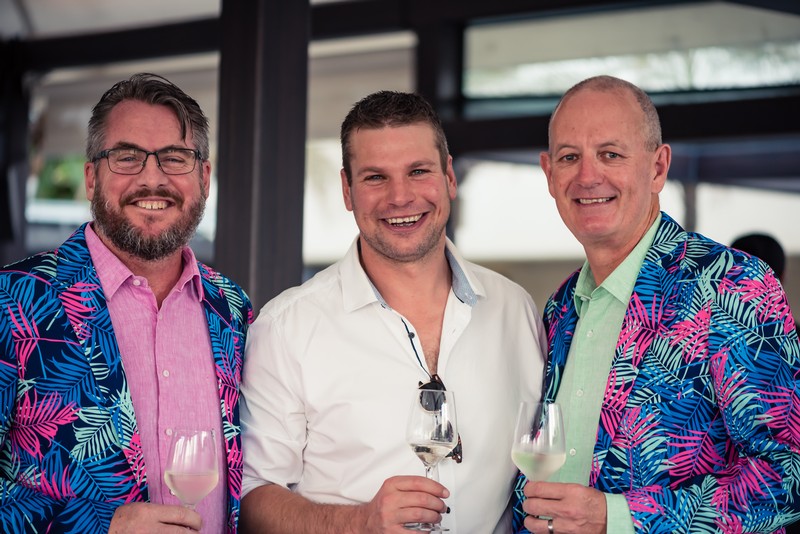 Tony pictured far right.