Our new release 2021 whites are out.
And it's time to cook some delicious eats to wash them down with. This BBQ Sardine recipe pairs perfectly with our The Kelpie Sauvignon Blanc.
The citrus in the savvy B is offset Oh so well by the oiliness of the Sardines.
Bon Appetite!
What you'll need:
8 whole sardines, gutted
2 tbsp of olive oil
For the chermoula sauce
1 large pack of coriander
1 small bunch of parsley
2 garlic cloves
1 preserved lemon, skin only
1 tsp ground cumin
½ tsp smoked paprika
¼ tsp chilli flakes
75ml extra virgin olive oil
You will need
8 metal skewers
Method:
Blitz, all the ingredients for the chermoula sauce in a food processor (or finely chop) with a generous pinch of seasoning, then set aside. Will keep in an airtight container in the fridge for up to three days.
Heat the barbecue for direct cooking. Rub the oil over the sardines and season well. Thread each fish from head to tail onto a skewer, making a few slashes with a knife to each if you like.
Cook the sardines over the glowing coals for 2-3 mins on each side until cooked through and nicely charred. Drizzle over the chermoula sauce to serve.


Warming, comfort food at its best and super easy to make, when was the last time you had a delicious ham and cheese quiche?
Is it time to bring it back into fashion?
This delightful quiche will have the whole family happy and make great leftovers for the next day.
What you'll need:
1 premade pie dough
1 1/2 cups of chopped deli ham
1/2 cups of shredded cheddar
1/2 cups of shredded Monterey jack
2 green onions, thinly sliced
¾ cups heavy cream
6 large eggs
1/2 tsp. salt
1/4 tsp. freshly ground black pepper
Ham
Preheat oven to 190degrees. Press dough into a 9" pie plate and crimp edges. Line crust with parchment paper and fill with dried beans or pie weights. Bake until lightly golden and set, 15 minutes.
Remove pie weights and continue baking until the bottom crust is golden, 5 to 10 minutes more. Let cool slightly.
Scatter ham, cheeses, and green onions in the bottom of the pie crust. In a large bowl, whisk together heavy cream, eggs, salt, and pepper. Pour egg mixture over filling in pie crust.
Bake until just set in the centre, about 40 minutes. Let cool 15 minutes before slicing.


We may not be able to hop on a plane and head for a Euro holiday this year, but there are many benefits to still putting in that annual leave form and getting away travelling this year to somewhere a bit more local.
And Travel can have a lot of benefits that you may not have thought of, so if you need an extra push, here are our top tips.
Decreases stress
This one may be obvious. Any sort of vacation or breakaway is likely to dissolve most of your stress. And this can be extremely beneficial to your health. The less stressed you are, the healthier your whole body will be.
Leaving your worries behind and embarking on a completely new experience will do wonders for your health.
Keeps you active
Even if you're not usually active at home, we can promise you that a journey in a new country will get you up and going. City walking tours, hiking gorgeous mountains or forests, and even just the act of rushing through large airports means there is activity involved in any travel itinerary.
Expands your mind
Travelling opens your mind. Immersing yourself in new cultures and discovering unique views of the world will expand your horizons and increase your curiosity. It also nurtures creativity and boosts all the happy hormones in your brain.
Connect more with people
The more you travel, the more people you get to meet. Often these encounters lead to deeper connections that you won't usually find with people you meet in your neighbourhoods at home.
Fall in love with life
There's nothing like spending your days encountering one new experience after another to give you a profound love for life in general. The freedom that comes with travelling, along with the inevitable excitement felt during your explorations, creates a magical feel in your soul.


Winter warmers are coming right up.
Do you love to order some steaming pork buns when you head out for some Chinese?
Well, with this recipe you can make them at home for the entire family.
Perfectly paired with our soon to be released 2021 Pinot Gris.
What you'll need:
Filling:
½ teaspoon five-spice powder
500gms pork tenderloin, trimmed
Cooking spray
1 cup thinly sliced green onions
3 tablespoons hoisin sauce
2 tablespoons rice vinegar
1 tablespoon soy sauce
1 ½ teaspoon honey
1 teaspoon minced peeled fresh ginger
1 teaspoon minced garlic
¼ teaspoon salt
Dough:
1 cup warm water
3 tablespoons sugar
1 package dry yeast (about 2 1/4 teaspoons)
3 ¼ cups all-purpose flour (about 14 2/3 ounces)
3 tablespoons canola oil
¼ teaspoon salt
1 ½ teaspoons baking powder
Method:
To prepare the filling, rub five-spice powder evenly over pork. Heat a grill pan over medium-high heat. Coat the pan with cooking spray. Add pork to pan; cook 18 minutes, turning pork occasionally. Remove pork from pan, and let stand 15 minutes.
Cut pork crosswise into thin slices; cut slices into thin strips. Place pork in a medium bowl. Add onions and next 7 ingredients (through 1/4 teaspoon salt); stir well to combine. Cover and refrigerate.
To prepare the dough, combine 1 cup warm water, sugar, and yeast in a large bowl; let stand 5 minutes.
Lightly spoon flour into dry measuring cups, level with a knife. Add flour, oil, and 1/4 teaspoon salt to the yeast mixture; stir until a soft dough forms.
Turn dough out onto a lightly floured surface. Knead until smooth and elastic (about 10 minutes). Place dough in a large bowl coated with cooking spray, turning to coat top. Cover and let rise in a warm place free from drafts, 1 hour or until doubled in size. (Gently press two fingers into dough. If indentation remains, the dough has risen enough.)
Punch dough down; let rest 5 minutes. Turn dough out onto a clean surface; knead in baking powder. Let dough rest for 5 minutes.
Divide dough into 10 equal portions, forming each into a ball. Working with one dough ball at a time (cover remaining dough balls to keep from drying), roll the ball into a 5-inch circle.
Place 1/4 cup filling in the centre of the dough circle. Bring up sides to cover filling and meet on top. Pinch and seal closed with a twist. Repeat procedure with remaining dough balls and filling.
Arrange 5 buns seam side down, 1 inch apart, in each tier of a 2-tiered bamboo steamer. Stack tiers; cover with lid.
Add water to a large skillet to a depth of 1 inch; bring to a boil over medium-high heat. Place steamer in pan; steam 15 minutes or until puffed and set. Cool 10 minutes before serving.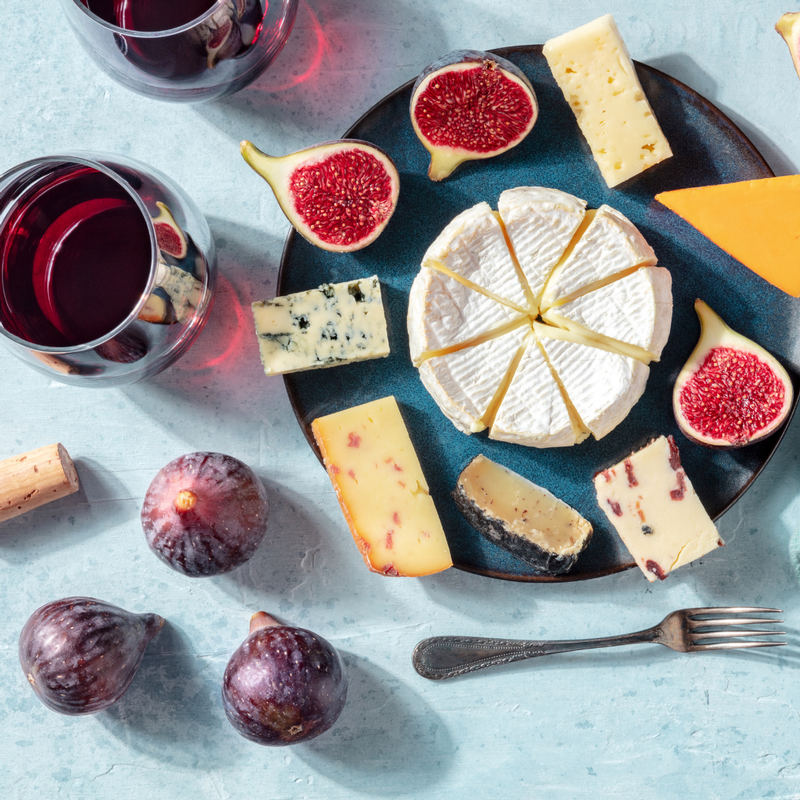 Winter is here, and it means more time spent inside with our family and friends.
If you are in the mood for entertaining or just want to hibernate and live off cheese and wine for the winter months, this guide to cheese and wine pairing will be your best friend.
You can thank us later!
Sauvignon Blanc
Sauvignon Blanc pairs perfectly with many artisanal kinds of cheese, but its favourites tend to be Cheddar, Gouda, Havarti, Monterey Jack, Muenster, Parmesan, and Swiss and other alpine-style cheeses.
Riesling
With its high acidity, Riesling makes a compatible match with goat cheese. The acidity of the wine echoes with that of the cheese.
Pinot Gris
First, you need to find a cheese that can trade body blows with the Pinot Gris' bright acidity. An excellent place to start is with fresh goat's milk cheese.
Sparkling Wine
Bubbles pairs perfectly with aged Swiss, is a natural partner for fizzy wines like Champagne, Prosecco and other Sparklers.
Merlot
Merlot goes hand in hand with gouda, gorgonzola, brie, Jarlsberg or parmesan.
Shiraz
For hard cheese enthusiasts, you can never go wrong with cheddar. Robust and nutty with a pleasantly sharp finish, a fruit-forward Shiraz will complement the cheese nicely.
Cabernet Sauvignon
Wines with a long finish, such as Cabernet Sauvignon, demand cheeses with complex flavours that can stand up to that finish, and aged cheddars tend to be the best pairing for various styles of cabernet sauvignon.


Nothing quite makes you feel like snuggling up on the couch than a big warm bowl of soup.
This Tomato Risoni soup will fill you up and satisfy that carb craving that comes with the cooler weather.
Enjoy this delicious soup with a heap of croutons or crusty, toasted bread with cheese and a glass or two of Raidis Shiraz.
Enjoy the snuggles.
What you'll need:
2 Tbsp Olive oil
1 Onion, finely diced
2 cloves Garlic, chopped
800 g Chopped tomatoes
2 cups Vegetable stock
½ cup Risoni pasta
¼ cup Fresh basil, leaves torn
Method:
Heat oil in a large saucepan, add finely diced onion and cook over medium heat for 5 minutes to soften. Add chopped garlic and cook for 1 minute more.
Add chopped canned tomatoes, vegetable stock and risoni pasta and bring to the boil, then turn down the heat and simmer for 10 to 12 minutes or until pasta is cooked.
Stir in fresh basil leaves and season with salt and pepper to taste.


As the weather gets chilly, we all head instead to see out the winter months; and let's face it, you might be looking for fun and exciting ways to entertain your friends when they come over for dinner.
Why not have a wine party night of sorts to see how well you and all your friends know your Raidis wines.
If you consider yourself are a Raidis enthusiast, wine lover, top fan on Facebook or just a willing consumer, then this game is the one for you.
And it's a fun game because it involves drinking wine, your best friends and something delicious to eat. All our favourite things really.
All you will need is one or more of each of our wines – most manageable with our reds and a bunch of willing friends, some eats and beats, and you have yourself a fun night.
Oh, and some paper bags to ensure that no one knows which wine they are drinking. You can even spice things up by throwing in some different vintage years.
Pop on some of your favourite tunes, cook up some delicious eats and start tasting through the wines.
We suggest doing up some simple scorecards with the following questions for your guests:
Aroma – Tell us about the smell.

Flavour – What can you taste? Berries, oak, etc.

One word to describe the wine you are drinking.

I would drink this wine with?

Which Raidis wine are you drinking?
Get your friends to score each wine and have prizes for matching the wine to our tasting notes or getting the wine right.
Enjoy.


Lamb shanks and cold weather go hand in hand, and cooking a gooey, soft lamb stew dish is definitely what will be keeping you warm and cosy all through the wintery months.
This dish pairs perfectly with our Billy Cabernet, an open fire, Netflix and time at home with those you love.
What you'll need:
4 lamb shanks, around 400g each
1 tsp each salt and pepper
2 - 3 tbsp olive oil, separated
1 cup onion, finely diced (brown, yellow or white)
3 garlic cloves, minced
1 cup carrot, finely diced
1 cup celery, finely diced
2 1/2 cups of red wine
800g can crushed tomatoes
2 tbsp tomato paste
500 ml chicken stock, low sodium
5 sprigs of thyme (preferably tied together), or 2 tsp dried thyme
2 dried bay leaves (or 4 fresh)
To serve:
Mashed potato, polenta or pureed cauliflower
Fresh thyme leaves, optional garnish
Method:
Preheat the oven to 180C.
Pat the lamb shanks dry and sprinkle with salt and pepper.
Heat 2 tbsp of olive oil in a heavy-based pot over high heat. Sear the lamb shanks in 2 batches until brown all over, about 5 minutes.
Remove lamb onto a plate and drain excess fat (if any) from the pot.

Turn the heat down to medium-low. Heat remaining 1 tbsp of olive oil in the same pot, if needed. Add the onion and garlic, cook for 2 minutes.
Add carrot and celery. Cook for 5 minutes until onion is translucent and sweet.
Add the red wine, chicken stock, crushed tomato, tomato paste, thyme and bay leaves. Stir to combine.
Place the lamb shanks into the pot, squeezing them in to fit, so they are mostly submerged.
Turn the stove up, bring to a simmer. Cover, then transfer to the oven for 2 hours.
Remove from oven, remove the lid, then return to the oven for another 30 minutes (so 2 1/2 hours in total). Check to ensure lamb meat is ultra-tender (use 2 forks) - if not, cover and keep cooking. The ideal is tender meat but still just holding onto the bone.
Remove lamb onto the plate and keep warm. Pick out and discard bay leaves and thyme.
Strain the sauce into a bowl, pressing to extract all sauce out of the veggies. Pour the strained sauce back into the pot. Bring to simmer over medium heat and reduce slightly to a syrupy consistency.
Serve the lamb shanks on mashed potato or cauliflower puree with plenty of sauce! Garnish with thyme leaves if desired.


Looking for something with a bit of wow factor to cook for Mum for breakfast in bed this Mother's Day?
This Shakshuka with spicy chorizo is a sure winner, your Mum will love you for it.
What you'll need:
1 tablespoon olive oil
100 g of chorizo chopped into 1/4 in pieces
1 medium onion, chopped
2 cloves garlic, chopped
Red capsicum, chopped into 1/2 in (1 1/4 cm) pieces
1 tablespoon paprika
½ teaspoon ground cumin
¼ teaspoon ground pepper
1 pinch sea salt
2.4 g tomato, chopped
4 eggs
½ cup feta cheese, crumbled
¼ cup fresh parsley
Method:
Heat oil in a frying pan over medium heat.
Add chorizo, onion, garlic, and capsicum, cooking for 2-3 minutes, or until fragrant.
Add paprika, ground cumin, pepper, and salt. Stir to combine, cooking for 6-8 minutes, or until the vegetables begin to soften.
Pour tinned tomatoes into the pan, reduce heat, and let simmer for 20-25 minutes, or until the sauce begins to thicken.
Using the back of a spoon, make 4 wells in the tomato sauce. Crack an egg into each well.
Cover the pan with a lid, and cook for 6-8 minutes, or until eggs are cooked.
Top with crumbled feta and chopped parsley.
Enjoy!


We love our Mums, and you want to show them you care this Mother's Day.
If money is a little tight after a tough year, you might be looking for creative ways to show Mum you care without breaking the piggy bank.
Here are our top ideas:
Write a Sweet Note
Write your mother a sweet note for Mother's Day to tell her what you love and admire about her. Let her know the impact she has made on your life.
A Bouquet of Fresh Flowers
Give your Mum a bouquet of fresh flowers or greenery! You could pick flowers from your own yard or find some wildflowers. Put your flowers in a mason jar or tin can tie a pretty ribbon around it, and you have a beautiful gift!
Make Her Dinner
Who wouldn't love a break from cooking? Why not offer to make your Mum a delicious dinner? You could invite her over to your house for a nice dinner together or bring it to her home.
Gift of Time
What better way to show your Mum that you care than to spend special one on one time together, cause after all spending time with her is the best present you can give.