Have you ever met a person that is not supremely happy with a big bowl of spaghetti and meatballs on a cold winter night….?
Pasta and red wine needs no introduction and go hand in hand, like kids and mud at the playground!
This recipe has a bit of twist on the traditional style of Italian spaghetti and meatballs with Thai style ingredients in the meatballs to add that little something different and can be a great way to introduce the younger members of your house to different foods.
You can also easily swap out the spaghetti for Hokkien style noddles if you prefer.
This dish takes about 35mins to makes, so it's super easy and will feed the whole family, it also pairs well with our Shiraz or Cabernet.
What you'll need
Meatballs
1 lb ground beef or pork
2 TB minced lemongrass
1 TB sesame seeds
1 lime, juiced
1 jalapeno, minced
2 cloves garlic, minced
5 large basil leaves, chopped
1/2 cup fresh cilantro, chopped
5 fresh mint leaves, chopped
2 tsp. soy sauce
1 tsp. ground ginger
2 TB fish sauce
1/2 cup bread crumbs
2 eggs
Pasta
1/4 cup + 2 TB olive oil, divided
1 onion, minced
2 tsp. soy sauce
6 cloves garlic, minced
6 cups chicken broth
1 packet of spaghetti noodles
2 cups thinly sliced carrots (optional)
Method
Preheat oven to 400 degrees. Spray a 9×13 glass pan or jelly roll pan with non-stick cooking spray.
In a medium-size mixing bowl, make the meatballs by combining all meatball ingredients until thoroughly mixed. Form into about 20 meatballs and place in the prepared pan. Bake in the preheated oven for 25 to 30 minutes.
While meatballs are baking make the pasta. Bring chicken broth to a boil in a large saucepan over high heat. Add in spaghetti noodles and cook until al dente according to package directions).
Meanwhile, eat 2 TB olive oil in a large skillet over medium heat. Add in onion and carrot and sauté for about 5 minutes until onions soften and begin to become translucent. Stir in soy sauce and garlic and cook an additional 1 minute.
Drain pasta and add into the skillet with remaining 1/4 cup olive oil. Stir to coat.
Serve pasta hot topped with meatballs.


Being a sustainable company is a bit of a buzz word that is hurled around these days in many circles.
With airlines going plastic free, metal and pasta straws appearing in cafes and restaurants and people becoming more and more conscious about their waste footprint, being sustainable is something that many businesses strive for but don't often achieve.
Why is sustainability important for wine businesses? Well, number one we want a planet that is still around for our children and our children's children to enjoy, but also so that we can continue to eat and drink all the things we want to enjoy. And, because some of these very things require sustainable thought processes.
Secondly, sustainable winegrowing practices protect our soil, air and water – the elements that breathe life into our grapes and wines.
Sustainability is important for the wine industry because what we do relies on at its very core the farming of grapes. Without good quality fruit, we don't get good quality wines, simple.
From a business perspective, and so we have a beautiful space to raise our children, we want our vineyards to be healthy and sustainable.
For us that means having the best quality environment to grow our fruit, it's in using our goats as the clean-up crew after the grapes have been picked, and it's educating our wine consumers on how we make our wines and why we choose the methods we do.
Being sustainable is doing our little bit to protect our beautiful region, country, and the world in a small but important way so we can all continue to enjoy it into the future.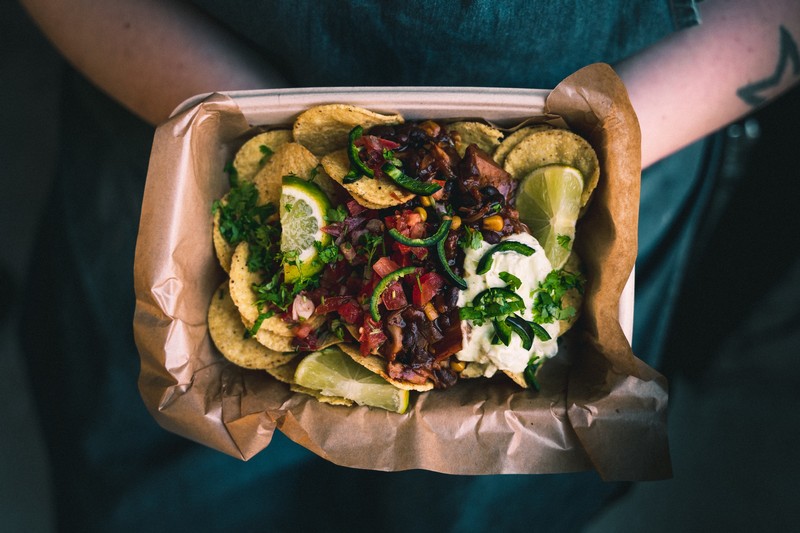 We're yet to meet a person who doesn't love a big bowl of nachos. I mean at its core it's chips and salsa deliciousness and generally a generous dose of guacamole too. It's guaranteed to keep even the fussiest of eaters happy.
Nachos can be a fun weeknight meal to make with the kids, or even jazz it up for a more sophisticated approach. It's the perfect dish to throw in the oven and hopefully, enjoy a guilt-free treat.
Here is a great and easy recipe for a delicious bowl of nachos. You can thank us later!
WHAT YOU'LL NEED:
3 teaspoons whole cumin seeds
3 teaspoons coriander seeds
2 tablespoons extra virgin olive oil
500g beef mince
1 red onion, chopped
¼ teaspoon ground cinnamon
5cm strip orange rind
400g can crushed tomatoes
185ml (¾ cup) water
400g red kidney beans, drained, rinsed
2 x 175g packets plain corn chips
160g (2 cups) coarsely grated cheddar
Sour cream, to serve
Sliced fresh red chilli or green chilli, to serve
GUACAMOLE
2 avocados, coarsely chopped
1 fresh green jalapeno, de-seeded, chopped
¼ white onion, chopped
2 tablespoons fresh coriander, chopped
2 teaspoons fresh lime juice
TOMATO SALSA
2 tomatoes, chopped
½ small red onion, chopped
½ cup fresh coriander, chopped
2 teaspoons fresh lime juice
METHOD:
Fry the cumin and coriander in a frying pan over medium heat for 1-2 minutes or until aromatic. Transfer to a mortar and pound with a pestle until coarsely crushed.
Heat the oil in a large frying pan over medium-high heat. Add the mince and cook, breaking it up with a wooden spoon for 5 minutes or until browned. Add the onion and cook, stirring for 5 minutes or until soft. Add the cumin mixture, cinnamon and orange rind. Cook for 1 minute or until aromatic.
Add the tomato, water and half the beans. Reduce the heat to low and simmer for 20 minutes or until the sauce reduces and thickens. Stir in the remaining beans.
Meanwhile, for the guacamole, place the avocado in a bowl. Use a fork to roughly mash. Add jalapeño, onion, coriander and lime and stir until well combined. Season.
To make the salsa, combine all the ingredients in a bowl. Season.
Preheat oven to 180C/160C fan forced. Spread the corn chips over a baking tray. Bake for 10 minutes or until warmed through.
Preheat the oven grill on medium-high. Transfer corn chips to 4 ovenproof dishes. Spoon beef mixture over and sprinkle with cheese. Grill for 2-3 minutes or until cheese melts. Top with guacamole, tomato salsa and sour cream. Serve with sliced chilli.


Is there anything more delightful than cracking open a bottle of red wine as the weather cools and we head towards winter, and then enjoying said wine by the fireplace or cozied up on the couch under a blanket?
As much as we love long summer days spent at the beach, wintery wine days can be pretty darn good too. But what is the best wine variety to get cozy with, in the cooler months?
Well, we recommend some good earthy red wines that are both warming and delicious.
Cabernet Sauvignon
We wouldn't be doing our region justice if we didn't talk about the warming and healing benefits of a good Cabernet Sauvignon. We might be biased but we reckon that a good drop of Cabernet can cure those crappy work days, or getting caught in a torrential downpour without an umbrella, and it pairs perfectly with nana's quilted rug, an open fireplace and some dark chocolate.
Grenache
For those looking for something a little lighter and easy-drinking for a mid-week tipple, you can't go past a delicious Grenache. Although not as light as a Pinot, but not heavy and punchy like a Shiraz or Cabernet, a pretty Australian Grenache (or even a Spanish one) can help you get through putting the kids to bed, is perfect served with a mini cheese platter, or outside by an open fire.
Shiraz
Probably the most quintessential red wine for cold weather in Australia, a beautiful bold Shiraz can help you get through those really crappy days. Or you can opt for something prettier like some of the newer style cool climate Shiraz wines that pair well with trackies and Ugg Boots.
And last but by no means least;
Merlot
A Merlot is a great go-to when you can't decide on any of the above-mentioned wines, or if you're just in the mood for a delicious, softer red wine. It's easy to drink, pairs well with lots of food types like cheese, chocolate and/or fruit, and is sure to warm you up.
What are your cool weather favourites? Would love to hear them.


If you are a parent, you might be breathing a big sigh of relief for school holidays ending, and the kiddies being back at school. But, it might also leave you in a state of panic having to cook those weekday dinners again. Or you might just be a time-poor business owner… Whatever your excuse, this is the soup for you.
We like to keep it easy and simple so that we can get little mouths fed and off to bed at a reasonable hour. And, after all the chocolates and sugar overload that comes with Easter and school holidays, this easy and quick chicken noodle soup is sure to keep everyone in the household happy and healthy.
What you'll need:
BROTH
3 cups / 750 ml chicken stock
2 garlic cloves, smashed
1 cm piece of ginger, sliced (optional, but highly recommended)
1 ½ tbsp light soy sauce (or normal all-purpose soy sauce)
2 tsp sugar
1½ tbsp Chinese cooking wine
¼ - ½ tsp sesame oil
TOPPINGS & NOODLES
6 oz / 180g fresh egg noodles
2 large bok choy plus/or other vegetables of choice
1 cup shredded cooked chicken (or other protein of choice)
1 scallion/shallot, (green part only) finely sliced (optional garnish)
Instructions
Place broth ingredients in a saucepan over high heat. Place lid on, bring to boil then reduce to medium heat and simmer for 5 - 10 minutes to allow the flavours to infuse.
Meanwhile, cook noodles according to packet directions.
Cut vegetables to the desired size. For bok choy, cut them into quarters (cut a cross into the base and tear it into neat quarters with your hands).
Pick ginger and garlic out of soup broth. Add bok choy and cook for 1 minute. Add chicken then turn the stove off.
Place noodles in bowls. Divide soup and toppings between bowls. Garnish with shallots (if using).
Great served with chilli paste or fresh chillies.
Enjoy.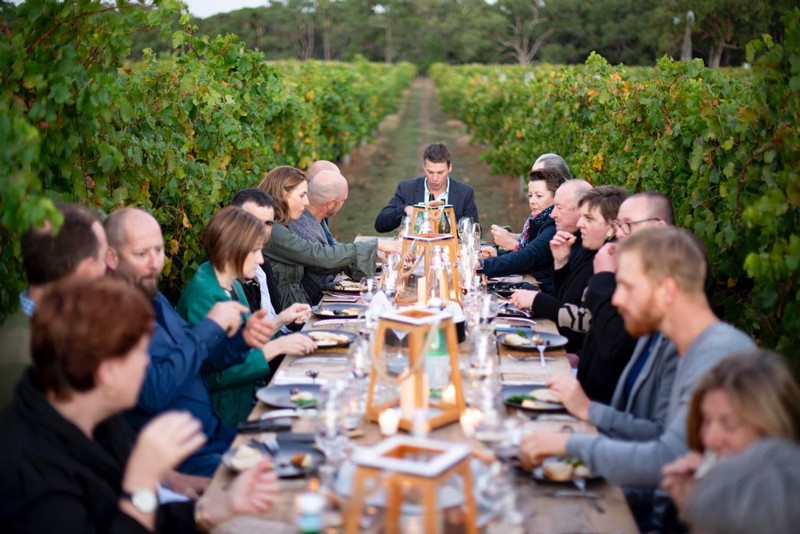 As school holidays and Easter time are upon us, we're in disbelief that it's already the end of April! This realisation that the year is flying by has made us think about why we do what we do.
Living the Winemaker dream is a lot of sweat and tears, but it's also the perfect opportunity to create something to bring people together and enjoy this wonderful thing we call life, and we wouldn't have it any other way.
For us; Emma and Stevo, making great wine is about bringing people together with great food, awesome company, and sensational wines! Just like ours! Wink, wink, nudge, nudge.
But seriously, that is why we do what we do and why we love it so much. Because life, laughter, and enjoying great produce is made all the better by sharing it with people.
We have many events at Raidis Estate throughout the year, and we love nothing more than bringing people together and chatting all things wine, food, and good times.
This month alone we have already enjoyed the Big Sky banquet as part of Tasting Australia, Chris's charcoal grill, and we are heading toward our Living the dream event for another year.
These events revolve around getting to know our community; those who love our wines, and we have a fun time whilst doing it. Of course, these events introduce new people to our wines too and make our community bigger. And on top of the events, many lovers of our wines also become our friends.
We wish you a happy and safe break, shared with family and friends and surrounded by great food and great wine because for us no holiday period is complete without some great friends and of course Raidis Estate's finest.
Life is short and is there to be enjoyed, and if you happen to be in the Coonawarra this holiday period, be sure to swing by and say hello. We will be more than happy to give you a guided tasting through our beautiful range of wines.


With Easter just around the corner, we felt it only fair to help you out with that Sunday morning treat that you're sure to indulge in, and that pairs perfectly with loads of butter, a cup of tea, or even a cheeky glass of vino.
We are talking about hot cross buns! An Easter tradition in many households, and oh so good when you take the time to bake them yourself.
WHAT YOU'LL NEED:
4 cups plain flour
2 x 7g sachets dried yeast
1/4 cup caster sugar
1 1/2 teaspoons mixed spice
pinch of salt
1 1/2 cups currants
40g butter
300ml milk
2 eggs, lightly beaten
FLOUR PASTE
1/2 cup plain flour
4 to 5 tablespoons of water
GLAZE
1/3 cup water
2 tablespoons caster sugar
Butter, to serve
METHOD
Step 1
Combine flour, yeast, sugar, mixed spice, salt and currants in a large bowl. Melt butter in a small saucepan over medium heat. Add milk. Heat for 1 minute, or until lukewarm. Add warm milk mixture and eggs to currant mixture. Use a flat-bladed knife to mix until dough almost comes together. Use clean hands to finish mixing to form a soft dough.
Step 2
Turn dough out onto a floured surface. Knead for 10 minutes, or until dough is smooth. Place into a lightly oiled bowl. Cover with plastic wrap. Set aside in a warm, draught-free place for 1 to 1 1/2 hours, or until dough doubles in size.
Step 3
Line a large baking tray with non-stick baking paper. Punch dough down to its original size. Knead for 30 seconds on a lightly floured surface until smooth. Divide into 12 even portions. Shape each portion into a ball. Place balls onto lined tray, about 1cm apart. Cover with plastic wrap. Set aside in a warm, draught-free place for 30 minutes, or until buns double in size. Preheat oven to 190°C or 170˚C fan-force.
Step 4
Make flour paste: Mix flour and water together in a small bowl until smooth, adding a little more water if paste is too thick. Spoon into a small snap-lock bag. Snip off 1 corner of bag. Pipe flour paste over tops of buns to form crosses. Bake for 20 to 25 minutes, or until buns are cooked through.
Step 5
Make glaze: Place water and sugar into a small saucepan over low heat. Stir until sugar dissolves. Bring to the boil. Boil for 3-4 minutes. Brush warm glaze over warm hot cross buns. Serve warm or at room temperature.
These are best eaten straight from the oven but can be frozen. But who are we kidding, you will likely not have any leftovers!


Easter always provides the perfect opportunity to hit the open road, leave the hustle and bustle of city life behind, and explore Australia.
And with Easter this year falling so close to the school holidays, there are plenty of chances to pack the kids in the car and head off on a trip to make a lifelong memory.
It always blows our minds how many South Aussies and Victorians have never been to the Coonawarra for a weekend getaway or an extended stay. So, if you are still yet to book a trip away for this Easter, why not head toward our beautiful patch of the world and give it a go.
Here are some exciting things happening in our region this April.
Glamp if you dare
There are some amazing opportunities to dabble your toe in the wonderful world of camping, whilst not having to do so without all the amenities your heart desires. We have options popping up to do just that all over the South East.
Places such Bellweather Wines in the heart of the Coonawarra offer glamping accommodation, Sea Vu Caravan Park in the gorgeous seaside town of Robe, and also companies that offer a pop-up and pitch like Luxe Glamping in Mount Gambier.
Eat, drink and be merry!
Our South East region holds its own when it comes to incredible places to visit and options to explore for the food and beverage lovers at heart.
There are brewery options such as Robe Town Brewery, wine bars and festivals in Mount Gambier, and wine regions like the Coonawarra – hint, hint, nudge, nudge, along with other amazing producers popping up all around the place.
And this Easter Friday we will have food, wines, and fun times at our place in the Coonawarra.
It's blue, it's big, and it's worth a trip
We are talking about the blue lake. If you have never seen this natural marvel it's a must-visit for the family travellers and Instagrammers at heart. It's big, beautiful and oh so blue, so be sure to bring your camera.
Get me to the beach
We have some of the most amazing beaches to explore, go 4x4 driving on, and to just relax such as Beachport, Robe, and Kingston, and the beauty is they are all close to the Coonawarra too.
This is just a little taste to whet your appetite, but our region has so many incredible things to do and places to see, and should definitely be on the list of places to visit this Easter.


We strongly suggest that if you are on that post-Mad March summer indulgence diet of soups and salads this is not the story for you…. But on the other hand, if you are keen for a little indulgence and comfort food this Autumn, you've come to the right place!
There is something awesomely delicious about the simplicity of a grilled cheese sandwich.
Whether you are a traditional wack it in a jaffle, grilled in the oven or flat press kind of sandwich lover, we probably all have fun toastie memories of grilled cheese dinners, late night escapades after a night out, or just when you can't be bothered to cook.
So, in the spirit of recognising these humble and simply delicious offerings, we are taking it next level and recommending our top five "next level" toasties.
The 'Mac and Cheese Grill'
Just like its name, and as simple as a traditional grilled cheese this little delight is loaded with butter, the kind of white bread your gym trainer would smack you for, and gooey delicious mac and cheese.
Perfect for a rainy day, nursing a sore head or let's face it, for kids who don't need to worry about the calories.
Ingredients – Cheese, Mac and Cheese mix, Butter and that white bread your personal trainer frowns upon.
Take it to the next level – Add three different types of cheese – hallelujah!
The 'We have leftovers, so deal with it'
Perfect for leftover spaghetti bolognaise, pasta bake, potato bake, you name it. If it fits in a jaffle then away you go.
Ingredients – Anything leftover.
Take it to the next level - Add in some delicious cheese like Jarlsberg or something with an equally fancy name!
'Three cheese and spinach'
This one is a little bit fancier; maybe for date night, or just for a rainy afternoon inside watching movies.
Ingredients – Pick three of your favourite cheeses - possibly a cheddar, a goat's cheese, and a pecorino might go well, add a little spinach and some fancy-pants bread and away you go.
Take it to the next level – You could always bake your own sourdough bread… but that might be taking it a step too far…
'Bacon Toasty'
Now we've got your attention! This one is going to be a winner, and ladies, it may just be the way to a man's heart.
Ingredients – Bacon, cheese, onion, pickles, mustard. Can I get a hell yes?!
Take it to the next level – This bacon goodness can only be paired perfectly with some type of fancy craft brew.
'Dessert Toasty'
Yes, we said it… A dessert toastie!
Ingredients – Fresh raspberries, mascarpone cheese spread, and some dark chocolate.
Take it to the next level – Add a port, dessert wine, a lively Cabernet, or anything really. Delish!


Living life as a grape grown from vines on a patch of red earth in the Coonawarra is a good way to live. There is plenty of water, care, and comfort.
And if you walk through the vineyards you might find a little guy by the name of Billy; not unique in his name, as he has many other brothers and sisters with a similar name, but for this story let's call him Billy 1.1
Come March and April, life takes a dramatic turn for Billy grape 1.1. The once tranquil vineyard starts to become a hive of activity as all the growing and ripening comes to fruition. He's looking mighty fine if he does say so himself. He is big, full and juicy.
And, what starts out as living the dream for a Billy grape is all about to change dramatically, like it or not.
As people flood through the vines and start clipping and picking at the Billy grapes, popping them into buckets, and then into bins, the journey starts for the little Billy grape from vine to wine.
He's been hearing about this day for a long time and now that it's here he's a bit apprehensive about what comes next. And just like that, his turn comes around as a sweet blonde-haired lady with one neat snip cuts him and his bunch of fellow Billy grapes from the vine.
Once all packed tightly with his brothers and sisters in the bins, they are popped onto a truck and sent on a little journey to a nearby winery.
It's here where things get interesting. The little Billy grapes are put into big machines, squashed and mashed and left to sit for several days whilst the colour of their skins merges with the juices flowing out of them, and their sugary insides turn into alcohol.
Talk about getting close to your brothers and sisters, they are now intimately combined. It sounds a little rough, but Billy 1.1 knows that it's his destiny, and together they make a beautiful deep crimson colour that can only be made by coming together.
After several days of stewing in their own juices so to speak, the little Billy grapes are put into another machine where all the skins are pushed to the side and just the crimson liquid flows effortlessly out.
If you were to ask that little Billy grape what he thinks of this process, he would say this is what I'm destined to be… So, I'm ok with this transformation.
After ageing away with his brothers and sisters in oak barrel homes, they are tested and split up into bottles.
It's from now on that Billy really gets to shine as he's shipped all over Australia and the world to appear on dining room tables, pulled out for special occasions, and placed on shelves in wine stores ready to be picked up, opened and enjoyed.
We know that's just how he likes it so if you see little Billy 1.1 and his brothers and sisters on your table, say hi from us.