​
A big bowl of mussels, some crusty bread and red wine is the way to get you through these last few lingering weeks of winter.
Mussels take on a delicious and luxurious taste when cooked in a red wine broth. And of course, this dish is perfectly paired with a bottle of Merlot or Shiraz, a green salad and crusty bread.
What you'll need:
1 head garlic
Extra-virgin olive oil, for drizzling
4 tablespoons butter
4 sprigs fresh thyme
2 cups fruity red wine
Coarse salt
4 pounds fresh mussels, scrubbed thoroughly
1/2 cup fresh flat-leaf parsley leaves, chopped
Method
Heat oven to 180 degrees. On parchment-lined foil, drizzle garlic with oil; tightly seal. Bake until tender, about 1 hour. Once cool, remove cloves from papery skin and set aside.
In a large pot, heat 1 tablespoon butter over medium heat; add thyme and roasted garlic cloves. Cook 1 to 2 minutes, then add wine and season with salt. Bring to a boil, add mussels, and reduce heat to medium. Cook, covered and undisturbed until shells have opened, 6 to 8 minutes.
Stir mussels and, with a slotted spoon, transfer to a warm serving bowl. (Discard unopened shells.) Return broth to a boil and reduce by half. Whisk in remaining 3 tablespoons butter and parsley. Ladle sauce over mussels and serve immediately.
Enjoy!


If winter is getting to be a bit of a drag by this stage in the game, and let's face it, it is for most people. You might be looking for easy and delicious weeknight recipes to enjoy and to use that leftover bolognese.
You don't need to be a budding chef to be able to pull together a delicious pasta bake; you just need a few simple ingredients, an oven and some hungry mouths to feed.
What you'll need:
500 g Butterfly pasta
1 tbsp 20 g Western Star Original Salted Butter
3 cups Basic Bolognese (leftover bolognese)
2½ cups (225 g) Cheddar Cheese
Method:
Preheat oven to 200°C / 180°C fan-forced. Grease a 3 litre (12 cup capacity) ovenproof dish.
Cook pasta in a large saucepan according to packet instructions for 12 minutes or until tender. Drain well.
Add pasta to prepared dish along with the butter and toss to combine. Add the Bolognese and half the cheese, stirring through gently to combine.
Top with remaining cheese. Bake for 20 minutes or until cheese is melted and golden brown. Allow to rest for a few minutes before serving.
Enjoy!


Hello winter, it seems like only yesterday that we were sipping on Pinot Gris enjoy the warmth of the beach and sunshine and now we are well and truly in winter mode.
Winter need not be the reason that you shy away from entertaining guests; it's an excellent time to get the fire going, make some warm snacks and open a bottle of delicious red.
And gooey honey glazed chicken wings are a sure-fire way to keep your dinner party guests happy from the get-go as a starter. And the great thing is they are easy to prepare in advance and have ready for the hungry masses when they arrive.
What you'll need:
3 Kgs chicken wings
Salt & pepper
2 cups honey
1 cup of soy sauce
4 Tablespoons vegetable oil
4 Tablespoons ketchup
6 cloves garlic, minced
1/4 teaspoon cayenne pepper, optional
Directions:
If wings are whole, remove tips and discard, or freeze to make chicken stock later). Coat with salt and pepper.
Combine remaining ingredients in a medium bowl until well mixed.
Cooking options:
1. Preheat oven to 180c. Place wings in a shallow casserole, pour the sauce over and bake until chicken is well done and sauce is caramelised about 1 hour.
2. Place wings in the slow cooker, pour the sauce over and cook on low 3 to 4 hours.


Have you ever met a person that is not supremely happy with a big bowl of spaghetti and meatballs on a cold winter night….?
Pasta and red wine needs no introduction and go hand in hand, like kids and mud at the playground!
This recipe has a bit of twist on the traditional style of Italian spaghetti and meatballs with Thai style ingredients in the meatballs to add that little something different and can be a great way to introduce the younger members of your house to different foods.
You can also easily swap out the spaghetti for Hokkien style noddles if you prefer.
This dish takes about 35mins to makes, so it's super easy and will feed the whole family, it also pairs well with our Shiraz or Cabernet.
What you'll need
Meatballs
1 lb ground beef or pork
2 TB minced lemongrass
1 TB sesame seeds
1 lime, juiced
1 jalapeno, minced
2 cloves garlic, minced
5 large basil leaves, chopped
1/2 cup fresh cilantro, chopped
5 fresh mint leaves, chopped
2 tsp. soy sauce
1 tsp. ground ginger
2 TB fish sauce
1/2 cup bread crumbs
2 eggs
Pasta
1/4 cup + 2 TB olive oil, divided
1 onion, minced
2 tsp. soy sauce
6 cloves garlic, minced
6 cups chicken broth
1 packet of spaghetti noodles
2 cups thinly sliced carrots (optional)
Method
Preheat oven to 400 degrees. Spray a 9×13 glass pan or jelly roll pan with non-stick cooking spray.
In a medium-size mixing bowl, make the meatballs by combining all meatball ingredients until thoroughly mixed. Form into about 20 meatballs and place in the prepared pan. Bake in the preheated oven for 25 to 30 minutes.
While meatballs are baking make the pasta. Bring chicken broth to a boil in a large saucepan over high heat. Add in spaghetti noodles and cook until al dente according to package directions).
Meanwhile, eat 2 TB olive oil in a large skillet over medium heat. Add in onion and carrot and sauté for about 5 minutes until onions soften and begin to become translucent. Stir in soy sauce and garlic and cook an additional 1 minute.
Drain pasta and add into the skillet with remaining 1/4 cup olive oil. Stir to coat.
Serve pasta hot topped with meatballs.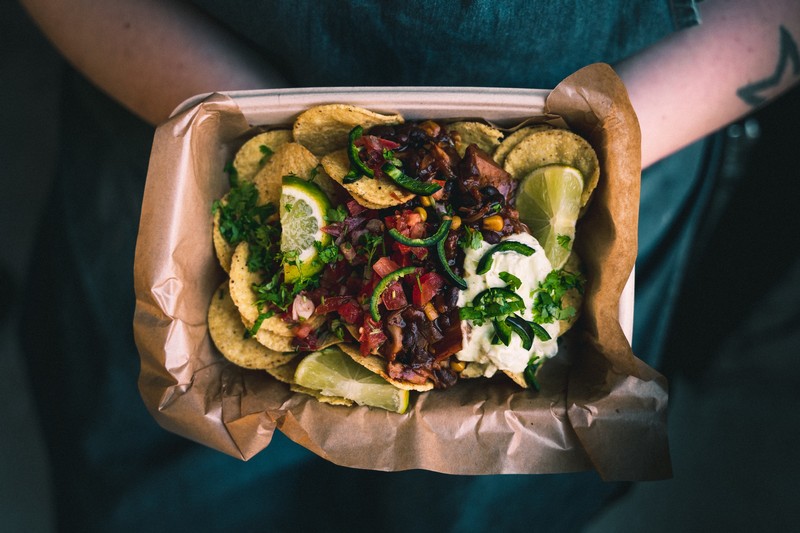 We're yet to meet a person who doesn't love a big bowl of nachos. I mean at its core it's chips and salsa deliciousness and generally a generous dose of guacamole too. It's guaranteed to keep even the fussiest of eaters happy.
Nachos can be a fun weeknight meal to make with the kids, or even jazz it up for a more sophisticated approach. It's the perfect dish to throw in the oven and hopefully, enjoy a guilt-free treat.
Here is a great and easy recipe for a delicious bowl of nachos. You can thank us later!
WHAT YOU'LL NEED:
3 teaspoons whole cumin seeds
3 teaspoons coriander seeds
2 tablespoons extra virgin olive oil
500g beef mince
1 red onion, chopped
¼ teaspoon ground cinnamon
5cm strip orange rind
400g can crushed tomatoes
185ml (¾ cup) water
400g red kidney beans, drained, rinsed
2 x 175g packets plain corn chips
160g (2 cups) coarsely grated cheddar
Sour cream, to serve
Sliced fresh red chilli or green chilli, to serve
GUACAMOLE
2 avocados, coarsely chopped
1 fresh green jalapeno, de-seeded, chopped
¼ white onion, chopped
2 tablespoons fresh coriander, chopped
2 teaspoons fresh lime juice
TOMATO SALSA
2 tomatoes, chopped
½ small red onion, chopped
½ cup fresh coriander, chopped
2 teaspoons fresh lime juice
METHOD:
Fry the cumin and coriander in a frying pan over medium heat for 1-2 minutes or until aromatic. Transfer to a mortar and pound with a pestle until coarsely crushed.
Heat the oil in a large frying pan over medium-high heat. Add the mince and cook, breaking it up with a wooden spoon for 5 minutes or until browned. Add the onion and cook, stirring for 5 minutes or until soft. Add the cumin mixture, cinnamon and orange rind. Cook for 1 minute or until aromatic.
Add the tomato, water and half the beans. Reduce the heat to low and simmer for 20 minutes or until the sauce reduces and thickens. Stir in the remaining beans.
Meanwhile, for the guacamole, place the avocado in a bowl. Use a fork to roughly mash. Add jalapeño, onion, coriander and lime and stir until well combined. Season.
To make the salsa, combine all the ingredients in a bowl. Season.
Preheat oven to 180C/160C fan forced. Spread the corn chips over a baking tray. Bake for 10 minutes or until warmed through.
Preheat the oven grill on medium-high. Transfer corn chips to 4 ovenproof dishes. Spoon beef mixture over and sprinkle with cheese. Grill for 2-3 minutes or until cheese melts. Top with guacamole, tomato salsa and sour cream. Serve with sliced chilli.


If you are a parent, you might be breathing a big sigh of relief for school holidays ending, and the kiddies being back at school. But, it might also leave you in a state of panic having to cook those weekday dinners again. Or you might just be a time-poor business owner… Whatever your excuse, this is the soup for you.
We like to keep it easy and simple so that we can get little mouths fed and off to bed at a reasonable hour. And, after all the chocolates and sugar overload that comes with Easter and school holidays, this easy and quick chicken noodle soup is sure to keep everyone in the household happy and healthy.
What you'll need:
BROTH
3 cups / 750 ml chicken stock
2 garlic cloves, smashed
1 cm piece of ginger, sliced (optional, but highly recommended)
1 ½ tbsp light soy sauce (or normal all-purpose soy sauce)
2 tsp sugar
1½ tbsp Chinese cooking wine
¼ - ½ tsp sesame oil
TOPPINGS & NOODLES
6 oz / 180g fresh egg noodles
2 large bok choy plus/or other vegetables of choice
1 cup shredded cooked chicken (or other protein of choice)
1 scallion/shallot, (green part only) finely sliced (optional garnish)
Instructions
Place broth ingredients in a saucepan over high heat. Place lid on, bring to boil then reduce to medium heat and simmer for 5 - 10 minutes to allow the flavours to infuse.
Meanwhile, cook noodles according to packet directions.
Cut vegetables to the desired size. For bok choy, cut them into quarters (cut a cross into the base and tear it into neat quarters with your hands).
Pick ginger and garlic out of soup broth. Add bok choy and cook for 1 minute. Add chicken then turn the stove off.
Place noodles in bowls. Divide soup and toppings between bowls. Garnish with shallots (if using).
Great served with chilli paste or fresh chillies.
Enjoy.


We strongly suggest that if you are on that post-Mad March summer indulgence diet of soups and salads this is not the story for you…. But on the other hand, if you are keen for a little indulgence and comfort food this Autumn, you've come to the right place!
There is something awesomely delicious about the simplicity of a grilled cheese sandwich.
Whether you are a traditional wack it in a jaffle, grilled in the oven or flat press kind of sandwich lover, we probably all have fun toastie memories of grilled cheese dinners, late night escapades after a night out, or just when you can't be bothered to cook.
So, in the spirit of recognising these humble and simply delicious offerings, we are taking it next level and recommending our top five "next level" toasties.
The 'Mac and Cheese Grill'
Just like its name, and as simple as a traditional grilled cheese this little delight is loaded with butter, the kind of white bread your gym trainer would smack you for, and gooey delicious mac and cheese.
Perfect for a rainy day, nursing a sore head or let's face it, for kids who don't need to worry about the calories.
Ingredients – Cheese, Mac and Cheese mix, Butter and that white bread your personal trainer frowns upon.
Take it to the next level – Add three different types of cheese – hallelujah!
The 'We have leftovers, so deal with it'
Perfect for leftover spaghetti bolognaise, pasta bake, potato bake, you name it. If it fits in a jaffle then away you go.
Ingredients – Anything leftover.
Take it to the next level - Add in some delicious cheese like Jarlsberg or something with an equally fancy name!
'Three cheese and spinach'
This one is a little bit fancier; maybe for date night, or just for a rainy afternoon inside watching movies.
Ingredients – Pick three of your favourite cheeses - possibly a cheddar, a goat's cheese, and a pecorino might go well, add a little spinach and some fancy-pants bread and away you go.
Take it to the next level – You could always bake your own sourdough bread… but that might be taking it a step too far…
'Bacon Toasty'
Now we've got your attention! This one is going to be a winner, and ladies, it may just be the way to a man's heart.
Ingredients – Bacon, cheese, onion, pickles, mustard. Can I get a hell yes?!
Take it to the next level – This bacon goodness can only be paired perfectly with some type of fancy craft brew.
'Dessert Toasty'
Yes, we said it… A dessert toastie!
Ingredients – Fresh raspberries, mascarpone cheese spread, and some dark chocolate.
Take it to the next level – Add a port, dessert wine, a lively Cabernet, or anything really. Delish!


Mama Goat, like any good motherly sort, is always dependable, there through thick and thin but always has a few surprises up her sleeve, and that's why we love her so much. She raises the Kid(s), she puts Billy in his place and is usually the instigator of the Trip.
We can only assume that on one of these Trips that they went to China somehow, as we can't come up with any other reason for just how amazingly well suited she is to pair with Peking duck, and who doesn't love duck pancakes?!
If you're lucky enough to be in the same place at the same time as our Mama Goat (Merlot) and delicious Peking duck pancakes, you're in for a real treat. And to sway the odds in your favour here's the recipe to create something quite amazing and pair with that bottle of Raidis Estate Merlot you already have in your wine fridge.
What you'll need
1 Peking duck – whole (buy pre-cooked)
½ cup plain flour
2 Tbsp. cornflour
¼ cup water
¼ cup milk
2 eggs
2 Tbsp. butter, melted
6 spring onions, washed
½ cup hoi sin sauce
Method
Combine flour, cornflour, water, eggs, milk and half the butter into food processor and mix until smooth. Pour batter into a jug, cover and set aside for 15 minutes.
Meanwhile, heat a non-stick frying pan over medium heat and brush with remaining butter. Remove a tablespoon of batter and pour into the middle of the pan. Spread to form a thin pancake.
Cook for 2 minutes, then flip and cook for an additional 1 minute. Repeat process until all batter is cooked.
Place pre-cooked Peking duck onto the chopping board, and cut meat into long thin portions to fit pancakes.
Place duck piece/s, 2 pieces of spring onion, and a splash of hoi sin sauce into the pancake. Roll up and serve.
And there you have it, a little trip to Peking from the comfort of your own home, and one of Raidis Estate's finest to go with it.
Enjoy!


Why did the Chicken cross the road? Well, we're sure it was chasing one of our Cheeky goats, the namesakes of our delicious Pinot Gris, who love to get out and about and see what this amazing place is all about.
We can't be mad at them when they try and experience all that this place has to offer, as we love nothing more than to do it ourselves.
Now we can assure you that no chickens were harmed in the great escape above, however, it does get us thinking of how delicious roast chicken is when it finds its way to our table.
And with that in mind, we wanted to share with you one of our special recipes which is the perfect pair for the Cheeky Goat Pinot Gris, but be warned, the Cheeky Goat might just disappear before your eyes too.
What you'll need
1 large roasting chicken
12 Chat potatoes
Lemons
Olive oil
Salt and pepper to taste
Spice Rub
1 ½ tsp. coriander seeds
¾ tsp. cumin seeds
½ tsp. crushed chilli flakes
1 ¼ tsp. ground cumin
1 tsp. paprika
½ tsp. ground cardamom
½ tsp. ground ginger
½ tsp. ground turmeric
Method
Combine spice ingredients in mortal and pestle and grind into a homogenous mixture.
Place whole chicken into baking dish. Drizzle with oil and sprinkle spice mixture over chicken making sure to get even coverage. Cut 2 lemons into halves and stuff inside the chicken.
Pre-heat oven to 180C. Surround chicken with Chat potatoes and place into oven. Cook for 1-1.5hrs or until cooked through.
Serve cooked potatoes and chicken with steamed carrots and green beans. Add a knob of butter to vegetables and sprinkle with salt and pepper to taste.
Enjoy!


The new year brings with it some closure on the year that was and gives us a chance to reflect on the things that worked, the things that didn't, and the things we need to focus on for the year that lies ahead.
At Raidis Estate, 2018 was a massive year for us with so many exciting things happening both in the business and on a personal level. And no matter whether 2018 was a great year or a little less than great for you, it's important to make sure you start the new year on a high. With that in mind, we're pulling out the big guns with this recipe for a huge Tomahawk steak, which is perfectly suited to a glass (or two) of Raidis Estate's finest, The Trip.
What you'll need
1 x 800g Tomahawk Beef Steak
Handful green beans
8x small Chat potatoes
Butter
Olive oil
Salt and Pepper
Method
Pre-heat oven to 180C. Place potatoes in baking dish with a knob of butter, and cook in the oven for 30 minutes, or until cooked through.
Pre-heat lightly-oiled griddle pan over high heat. Season steak with salt and pepper, and drizzle with olive oil.
Once the pan is hot, cook steak for 3 minutes each side (or until slightly charred).
Remove steak from pan and place on a plate in the oven. Cook for approximately 20 minutes, or until medium-rare. Remove from oven, cover with aluminium foil for 5 minutes to rest.
Meanwhile, boil beans for 2 minutes, remove from water and strain into a bowl. Add a knob of butter and sprinkle with salt and pepper to taste.
So, start of your new year on a high, and set your sights on a fantastic year ahead. With this beautiful food and wine match, you're setting a high bar and one that will see you achieve great things for 2019.
Cheers!