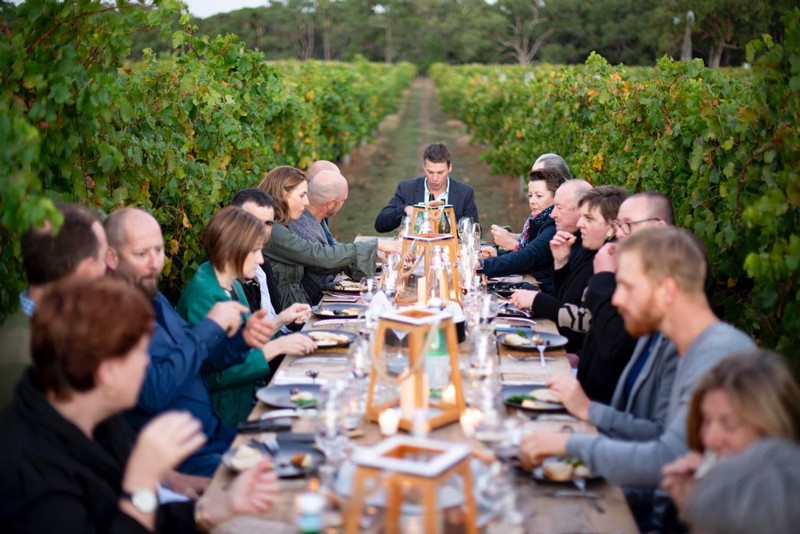 As school holidays and Easter time are upon us, we're in disbelief that it's already the end of April! This realisation that the year is flying by has made us think about why we do what we do.
Living the Winemaker dream is a lot of sweat and tears, but it's also the perfect opportunity to create something to bring people together and enjoy this wonderful thing we call life, and we wouldn't have it any other way.
For us; Emma and Stevo, making great wine is about bringing people together with great food, awesome company, and sensational wines! Just like ours! Wink, wink, nudge, nudge.
But seriously, that is why we do what we do and why we love it so much. Because life, laughter, and enjoying great produce is made all the better by sharing it with people.
We have many events at Raidis Estate throughout the year, and we love nothing more than bringing people together and chatting all things wine, food, and good times.
This month alone we have already enjoyed the Big Sky banquet as part of Tasting Australia, Chris's charcoal grill, and we are heading toward our Living the dream event for another year.
These events revolve around getting to know our community; those who love our wines, and we have a fun time whilst doing it. Of course, these events introduce new people to our wines too and make our community bigger. And on top of the events, many lovers of our wines also become our friends.
We wish you a happy and safe break, shared with family and friends and surrounded by great food and great wine because for us no holiday period is complete without some great friends and of course Raidis Estate's finest.
Life is short and is there to be enjoyed, and if you happen to be in the Coonawarra this holiday period, be sure to swing by and say hello. We will be more than happy to give you a guided tasting through our beautiful range of wines.


We strongly suggest that if you are on that post-Mad March summer indulgence diet of soups and salads this is not the story for you…. But on the other hand, if you are keen for a little indulgence and comfort food this Autumn, you've come to the right place!
There is something awesomely delicious about the simplicity of a grilled cheese sandwich.
Whether you are a traditional wack it in a jaffle, grilled in the oven or flat press kind of sandwich lover, we probably all have fun toastie memories of grilled cheese dinners, late night escapades after a night out, or just when you can't be bothered to cook.
So, in the spirit of recognising these humble and simply delicious offerings, we are taking it next level and recommending our top five "next level" toasties.
The 'Mac and Cheese Grill'
Just like its name, and as simple as a traditional grilled cheese this little delight is loaded with butter, the kind of white bread your gym trainer would smack you for, and gooey delicious mac and cheese.
Perfect for a rainy day, nursing a sore head or let's face it, for kids who don't need to worry about the calories.
Ingredients – Cheese, Mac and Cheese mix, Butter and that white bread your personal trainer frowns upon.
Take it to the next level – Add three different types of cheese – hallelujah!
The 'We have leftovers, so deal with it'
Perfect for leftover spaghetti bolognaise, pasta bake, potato bake, you name it. If it fits in a jaffle then away you go.
Ingredients – Anything leftover.
Take it to the next level - Add in some delicious cheese like Jarlsberg or something with an equally fancy name!
'Three cheese and spinach'
This one is a little bit fancier; maybe for date night, or just for a rainy afternoon inside watching movies.
Ingredients – Pick three of your favourite cheeses - possibly a cheddar, a goat's cheese, and a pecorino might go well, add a little spinach and some fancy-pants bread and away you go.
Take it to the next level – You could always bake your own sourdough bread… but that might be taking it a step too far…
'Bacon Toasty'
Now we've got your attention! This one is going to be a winner, and ladies, it may just be the way to a man's heart.
Ingredients – Bacon, cheese, onion, pickles, mustard. Can I get a hell yes?!
Take it to the next level – This bacon goodness can only be paired perfectly with some type of fancy craft brew.
'Dessert Toasty'
Yes, we said it… A dessert toastie!
Ingredients – Fresh raspberries, mascarpone cheese spread, and some dark chocolate.
Take it to the next level – Add a port, dessert wine, a lively Cabernet, or anything really. Delish!


There are so many fun facts about wine; it's uses, it's drinkers and what people do when they drink too much (which we won't go into). And, there are also a lot of fun facts that are worth knowing, even if it's just for a trivia night.
So how many of these did you know before?
The oldest preserved bottle of wine is nearly 1700 years old and it is on display in a German museum. That's one hell of an old wine! I wonder if it will ever be opened?
Rumour has it putting ice and salt in a bucket will chill white wine or Champagne faster. We are yet to try this but if you know the answer, we'd love to hear it!
Always pushing the boundaries of the weird and wonderful... In Japan, there is a spa where you can swim in wine. EWWW
True or false? – Do you pronounce the "t" in Moët & Chandon Champagne? Potentially depends on how upper crust you are.
Prince Charles has an Aston Martin that runs on biofuel made out of wine. Completely useless fact but interesting nonetheless.
According to the Wine Institute, Vatican City drinks the most wine per capita in Europe at 74 litres of wine per person per year. That's a full two times more wine per capita than Italy. Clearly 'Holy water'!
A red wine glass should have an edge that's angled slightly inward. Supposedly to make it easier to smell the wine's aromas.
Australia has some of the oldest grape vines in the World. True story.
An experiment was conducted in 2001 with 54 undergraduates who were studying wine tasting and winemaking at the University of Bordeaux. The researcher asked them to describe one glass of white wine and one glass of red wine. They didn't know that the glass of red wine was actually white wine dyed red. Not one of the 54 students realized they were drinking white wine.


Mama Goat, like any good motherly sort, is always dependable, there through thick and thin but always has a few surprises up her sleeve, and that's why we love her so much. She raises the Kid(s), she puts Billy in his place and is usually the instigator of the Trip.
We can only assume that on one of these Trips that they went to China somehow, as we can't come up with any other reason for just how amazingly well suited she is to pair with Peking duck, and who doesn't love duck pancakes?!
If you're lucky enough to be in the same place at the same time as our Mama Goat (Merlot) and delicious Peking duck pancakes, you're in for a real treat. And to sway the odds in your favour here's the recipe to create something quite amazing and pair with that bottle of Raidis Estate Merlot you already have in your wine fridge.
What you'll need
1 Peking duck – whole (buy pre-cooked)
½ cup plain flour
2 Tbsp. cornflour
¼ cup water
¼ cup milk
2 eggs
2 Tbsp. butter, melted
6 spring onions, washed
½ cup hoi sin sauce
Method
Combine flour, cornflour, water, eggs, milk and half the butter into food processor and mix until smooth. Pour batter into a jug, cover and set aside for 15 minutes.
Meanwhile, heat a non-stick frying pan over medium heat and brush with remaining butter. Remove a tablespoon of batter and pour into the middle of the pan. Spread to form a thin pancake.
Cook for 2 minutes, then flip and cook for an additional 1 minute. Repeat process until all batter is cooked.
Place pre-cooked Peking duck onto the chopping board, and cut meat into long thin portions to fit pancakes.
Place duck piece/s, 2 pieces of spring onion, and a splash of hoi sin sauce into the pancake. Roll up and serve.
And there you have it, a little trip to Peking from the comfort of your own home, and one of Raidis Estate's finest to go with it.
Enjoy!


Why did the Chicken cross the road? Well, we're sure it was chasing one of our Cheeky goats, the namesakes of our delicious Pinot Gris, who love to get out and about and see what this amazing place is all about.
We can't be mad at them when they try and experience all that this place has to offer, as we love nothing more than to do it ourselves.
Now we can assure you that no chickens were harmed in the great escape above, however, it does get us thinking of how delicious roast chicken is when it finds its way to our table.
And with that in mind, we wanted to share with you one of our special recipes which is the perfect pair for the Cheeky Goat Pinot Gris, but be warned, the Cheeky Goat might just disappear before your eyes too.
What you'll need
1 large roasting chicken
12 Chat potatoes
Lemons
Olive oil
Salt and pepper to taste
Spice Rub
1 ½ tsp. coriander seeds
¾ tsp. cumin seeds
½ tsp. crushed chilli flakes
1 ¼ tsp. ground cumin
1 tsp. paprika
½ tsp. ground cardamom
½ tsp. ground ginger
½ tsp. ground turmeric
Method
Combine spice ingredients in mortal and pestle and grind into a homogenous mixture.
Place whole chicken into baking dish. Drizzle with oil and sprinkle spice mixture over chicken making sure to get even coverage. Cut 2 lemons into halves and stuff inside the chicken.
Pre-heat oven to 180C. Surround chicken with Chat potatoes and place into oven. Cook for 1-1.5hrs or until cooked through.
Serve cooked potatoes and chicken with steamed carrots and green beans. Add a knob of butter to vegetables and sprinkle with salt and pepper to taste.
Enjoy!


The new year brings with it some closure on the year that was and gives us a chance to reflect on the things that worked, the things that didn't, and the things we need to focus on for the year that lies ahead.
At Raidis Estate, 2018 was a massive year for us with so many exciting things happening both in the business and on a personal level. And no matter whether 2018 was a great year or a little less than great for you, it's important to make sure you start the new year on a high. With that in mind, we're pulling out the big guns with this recipe for a huge Tomahawk steak, which is perfectly suited to a glass (or two) of Raidis Estate's finest, The Trip.
What you'll need
1 x 800g Tomahawk Beef Steak
Handful green beans
8x small Chat potatoes
Butter
Olive oil
Salt and Pepper
Method
Pre-heat oven to 180C. Place potatoes in baking dish with a knob of butter, and cook in the oven for 30 minutes, or until cooked through.
Pre-heat lightly-oiled griddle pan over high heat. Season steak with salt and pepper, and drizzle with olive oil.
Once the pan is hot, cook steak for 3 minutes each side (or until slightly charred).
Remove steak from pan and place on a plate in the oven. Cook for approximately 20 minutes, or until medium-rare. Remove from oven, cover with aluminium foil for 5 minutes to rest.
Meanwhile, boil beans for 2 minutes, remove from water and strain into a bowl. Add a knob of butter and sprinkle with salt and pepper to taste.
So, start of your new year on a high, and set your sights on a fantastic year ahead. With this beautiful food and wine match, you're setting a high bar and one that will see you achieve great things for 2019.
Cheers!


Did you know that goats can be taught their names and to come when called? And that each Kid, when born, has its own unique call and scent? This is how the Mama Goat recognises its Kid, not by sight.
It's a sweet life for our goats here at Raidis Estate, which is a good thing for them as goats can become depressed when kept on their own as they are social animals. Now we're not claiming that our goats are as well behaved as we'd always like, but they do work hard for us in the vineyard.
Throughout other parts of the year, our goats get to kick back and enjoy lazily munching on pastures without a care in the world, not something that can be said for some of the less fortunate goats in the world.
A little-known fact about goats is that their meat is the most consumed meat per capita worldwide! They say that ignorance is bliss, so we don't tell our goats those kinds of details, and with their proclivity to getting depressed with things, we simply have them training (eating grass) in the off-season so that when weed control duties are required, we put them into our vineyard and they get to work doing what they do best, eating.
Goats are foragers, not grazers so if we left them in the vineyard too long, they might start to eat some things they shouldn't, i.e. like our grapes. We don't blame them for that because of how delicious they are, however, them eating all the fruit stops you from being able to enjoy the amazing Raidis Estate wines.
So, next time you see our goats looking like they're just swanning around eating, bear in mind they're doing very important work, and those happy goats, are well-fed goats.


Spring has gone and gotten us all excited for what is without a doubt one of the favourite events on the Raidis Estate social calendar. Our Spring Shindig is all about bringing together all things special to us at Raidis Estate, and that includes you!
So, for this year's Spring Shindig, we've partnered up with our great mates at The Cide Project to bring you the best beers and ciders in town, and the local band The Led Sleds will have you dancing the night away on the dance floor (or wherever you feel like dancing).
Of course, no event would be complete at Raidis Estate without Chris firing up the Greek Charcoal Grill and delivering to you some of our favourite dishes which are sure to see you well fed and loving life.
Raidis Estate's finest will be flowing, and the atmosphere is always great when we bring together all things food, wine, live music and great people.
Clear your calendars.
Saturday 3rd November at 6pm, make sure you're not anywhere else but living it up at Raidis Estate.
A $40 ticket gets you in the door and will see you with a glass in hand (which you get to keep), along with a delicious meal straight from the Charcoal Grill to enjoy before dancing the night away. And if you want to eat before you come, a $10 ticket gets you in the door and glass in hand.
Not that we think you'll need more inspiration, but to get you here we've organised a return bus from Mt Gambier for just $15 per person, so no need to argue about who should be designated driver.
Jump on the Raidis Estate website and book your spot for what will be an amazing Spring Shindig at Raidis Estate.
We can't wait to see you!


For anyone who has been to our cellar door or who has experienced our delicious wines, you will know that our goats are part of the family and framework that is our winery. And, they feature prominently on our logo.
They are an integral part of our business and our life at Raidis Estate. If you're anything like us, you'll love being part of something special, something unique, and something exclusive! Oh, and you'll also love wine!
At Raidis Estate, we have our very own unique and exclusive wine club which is affectionately known as the Billy Goat Club, designed for lovers of great food and delicious wines.
Becoming a Billy Goat club member makes you a part of our business and a part of the Raidis Estate story forever. You become like family to us. You also get some great deals on wine, events and all things Raidis Estate. Oh, and did we mention that we have a members-only trip to Singapore coming up?
Still on the fence? Well here is what is on offer to entice you further.
There's no membership fee and free freight for whole cases.

Priority access to our most limited release wines – like our annual project wines.

A dozen of our premium wines delivered to your door twice a year (white, red or mixed). The best part is you get to choose.

15% off all Raidis Estate wines and merchandise all year round.

Gift service – we will send wine and merchandise on your behalf to family and friends with a personalised card (so you never need to work out what to get those loved ones)

Invitations to events and bonus offers – including the coveted Greek Charcoal Grill and our Living the Dream Day, which normally sells out exclusively to our Billy Goat Club members.

Vintage reports and tasting notes with suggestions of when to drink and food accompaniments.

Billy Goat Club member key ring.

And to top it off, we hold exclusive members-only days and events which you can share with other lovers of Raidis Estate.
Becoming a club member will see you invited to all the best events which will fire up your social calendar, and will keep you well stocked with Raidis Estate's finest, so you've always got delicious, premium wines handy to pair with whatever culinary delights you have prepared.
It also makes the perfect Christmas gift for that super hard to buy for family member… Hint, Hint!
It will be the best decision you ever make, so don't be a silly goat, become a billy goat.
We'd love to have you.


Getting the BBQ out and cooking for family and friends is one of our favourite things to do, and the first real glimpse of springtime sunshine has seen us dusting off the BBQ and spending some more time outside again after a few months of cold, wintery weather.
So, in true Raidis sharing fashion, we wanted you to experience the amazingness that is this delicious Barbecued Prawns with Lemon, Parsley and Garlic recipe, and pair it with one of our crisp and delicious white wines.
What you'll need:
4 tbsp. Olive oil
4 tbsp. Lemon juice
3 tbsp. chopped fresh Parsley
1 tbsp. minced Garlic
Freshly ground black pepper to taste
Chilli flakes (optional)
700g uncooked fresh King Prawns, peeled and deveined
Method:
In 3 easy steps:
In a large glass bowl, stir together the olive oil, lemon juice, parsley, garlic and black pepper. Season with chilli flakes, if desired. Add prawns and toss to coat.

Preheat BBQ for high heat. Thread prawns onto skewers, piercing once near the tail and once near the head. Discard any remaining marinade.
Lightly oil cooking plate. Cook for 2-3 mins each side until opaque.
This recipe is so simple and totally delicious, and pairs perfectly with our "The Kid" Riesling, or "The Kelpie" Sauvignon Blanc. Whichever Raidis wine you opt for, you won't be disappointed, just make sure there is plenty for everyone!
And to make this delicious recipe into a meal that everyone will love, consider adding some springtime favourites, such as a crisp garden salad or roasted seasonal vegetables, a warm breadstick, some baked potatoes, and a fresh fruit plate to finish.
Enjoy.