15 December 2017 | Raidis Estate
The perfect Pair
The perfect Pair
Picking the perfect wine for Christmas day to go with your meal can be a daunting task. Even for a wine connoisseur, it can sometimes be hard to pick what might work best and please everyone, especially if you have that fussy Uncle at the table who speaks all the wine jargon that completely goes over your head. But it need not be an added stress for you this Christmas…
We get it, you like wine, and you just want to drink something delicious without all the fuss.
Here are our tips for picking a bottle of wine that will pair deliciously with your meal and will silence that pretentious Uncle.


Seafood
Yep, you guessed it; we are going to recommend a white wine for sure! But which one? We recommend both a crisp, cold Riesling that pairs well with raw oysters and prawns or an elegant Sauvignon Blanc which can match fabulously with some smoked Salmon or white fish.
Now I know we are biased, but our Raidis Estate Riesling and our Pinot Gris are both cracking wines for the warm summer months and will be delicious on any Chrissy table. If you are not a white wine drinker, some of the lighter style reds can work well too. As can a sparkling Shiraz!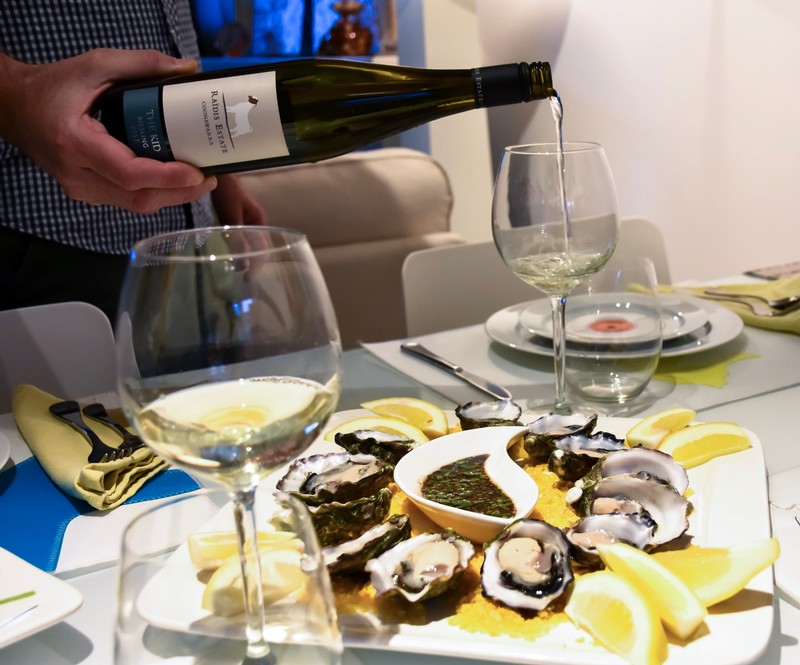 Glazed Ham
Who doesn't love a gooey and delicious glazed ham on Christmas day… Am I right? And the best part about ham is the leftover ham sandwiches for a week after Christmas. Ham can be paired perfectly with a beautiful Pinot Gris to cut through the sweetness of the ham while having a little more body and complexity than some lighter whites, so it doesn't get lost. Alternatively, some of the more elegant red varietals such as our Shiraz won't disappoint.


Lamb
An Aussie tradition in many Australian households is to have a delicious leg of lamb as the main affair on your Christmas table. We think lamb pairs best with a delicious, soft style red wine; something like a Merlot or a lighter Shiraz even, as a little spice adds to the experience. But, if reds are not your jam with Lamb, Pinot Gris can work well too, just depends on your tastes.
Roast Pork
Crackle? Yes, please! Roast pork is that smell that can make you hungry from the other end of the block, and there is nothing better than a Weber pork roast on Christmas day. Pair it with a delish Pinot Gris or Riesling.
Whatever you decide to drink on Christmas Day, don't over think it too much. As long as it's shared with family, good friends, and delicious food it's bound to be a winner.
Need to stock up, shop below:
Comments
Commenting has been turned off.