16 April 2019 | Raidis Estate, Raidis Estate Events | Raidis Estate
Living the dream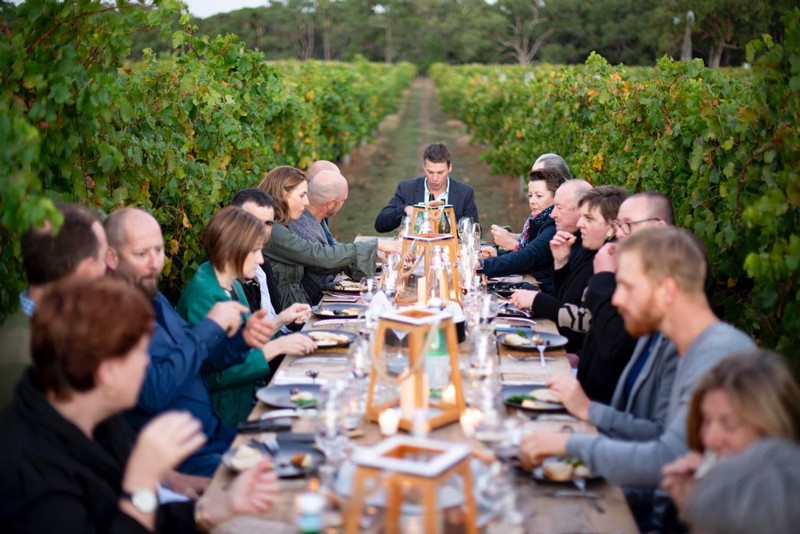 As school holidays and Easter time are upon us, we're in disbelief that it's already the end of April! This realisation that the year is flying by has made us think about why we do what we do.
Living the Winemaker dream is a lot of sweat and tears, but it's also the perfect opportunity to create something to bring people together and enjoy this wonderful thing we call life, and we wouldn't have it any other way.
For us; Emma and Stevo, making great wine is about bringing people together with great food, awesome company, and sensational wines! Just like ours! Wink, wink, nudge, nudge.
But seriously, that is why we do what we do and why we love it so much. Because life, laughter, and enjoying great produce is made all the better by sharing it with people.
We have many events at Raidis Estate throughout the year, and we love nothing more than bringing people together and chatting all things wine, food, and good times.
This month alone we have already enjoyed the Big Sky banquet as part of Tasting Australia, Chris's charcoal grill, and we are heading toward our Living the dream event for another year.
These events revolve around getting to know our community; those who love our wines, and we have a fun time whilst doing it. Of course, these events introduce new people to our wines too and make our community bigger. And on top of the events, many lovers of our wines also become our friends.
We wish you a happy and safe break, shared with family and friends and surrounded by great food and great wine because for us no holiday period is complete without some great friends and of course Raidis Estate's finest.
Life is short and is there to be enjoyed, and if you happen to be in the Coonawarra this holiday period, be sure to swing by and say hello. We will be more than happy to give you a guided tasting through our beautiful range of wines.
Comments
Commenting has been turned off.